Justice Is 'Sort of' Served on 'Bull's Thanksgiving Episode
Bull goes home for the holidays in an episode that follows each member of the Trial Analysis Corporation team to his or her respective Thanksgiving dinner. Well, every member except for boss Jason Bull (Michael Weatherly), who gets a new case just as he's headed out the door: a boxer who recently won the biggest bout of his career, found the dead body of a local drug dealer in his apartment and is being charged with the guy's murder. (Oh yeah, there's also a chance he's being set up by the mob.) Jason takes him on without telling his employees, because they deserve a little vacation and he is that good a guy. But that doesn't mean they won't see it on the news and come rushing back to help…or possibly to escape a little family drama.
See Also
Michael Weatherly's charming trial consultant is back for more psychology and gadgetry
"I love making holiday episodes," gushes executive producer Glenn Gordon Caron, who promises that this one will have a little of everything. "Justice will be sort of served, familial surprises are revealed and much turkey is eaten," he says. We're so thankful.
Bull, Tuesday, Nov. 21, 9/8c, CBS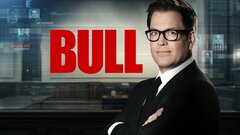 Bull
where to stream
Powered by