'Lady Dynamite' Season 2: All the Lingering Questions We Want Answered
In the words of an old preschool tune, "Boom, boom, ain't it great to be crazy?"
Maria Bamford has shown us the ups and downs of mental illness with her Netflix series Lady Dynamite, loosely based on her own struggles with Bipolar II disorder. Soon, she'll step back into the shoes of her fictitious self and pick up where she left off, crazy antics and all. But what about all of the things we still can't get over from the first season?
Here are seven questions want answers to from Lady Dynamite Season 1:
1. What's up next for Maria's career?
When Maria returned to Los Angeles after a six-month stint in mental health care treatment back in Duluth, her gigs were a little less than impressive (Pussy noodles, anyone?). The irony of the show is perhaps that Maria is always being told not to do stand-up, but her funniest moments have often been when she's on the stage. Maybe her chance at a big break is finally on the way–and no, we're not talking about a campaign of superstore commercials.
2. Will we still get to see Maria's wacky family?
Season 1 told us the whole backstory of Maria's breakdown: her time in Minnesota, and then her eventual move back to the city of dreams. But now that we've seen that, will that be it for her parents, Marilyn and Joel (Mary Kay Place and Ed Begley Jr.)? We sure hope not. Bless the entire mess that is the Bamford clan!
3. How many life lessons can we expect to learn?
Maria explored the topics of race, privilege, anxiety, and taking the moral route throughout episodes of last season, even when her agent, Bruce (Fred Melamed) didn't make those choices simple. It's probably safe to assume we'll see Maria struggle with how to do the right thing despite the wrong decisions around her, though hopefully there won't be anymore African children's armies wearing t-shirts with her face on it.
4. Will Maria ever make some better friends?
In the words of Maria's life coach, "Leave no friends behind!" But real talk: All of Maria's friends kind of suck, from Susan (Mo Collins) and her complaints about the attention Maria needs, to Larissa (Lennon Parham), who can't even manage to help her keep her calendar in check. This girl needs some gal pals to rely on. Hopefully she'll find some this season.
5. What happened to the Super Grisham?
Speaking of the life coach, when she, your real estate agent, and your manager all share the same name and then simultaneously morph into a massive, talking guinea pig, I guess you listen to their advice. But will we see all of the Karen Grishams back in Season 2? From Ana Gasteyer's appearance in the trailer, one can predict that the odds are in their favor.
6. Will Maria's love life stay afloat?
Last season saw a number of colorful characters come in and out of Maria's life, from Jack (Brandon Routh), who really fell in love with her sexy Diane voice, to Chad (Adam Pally) who was really just trying to talent scout her, to Graham (Dean Cain)—the one who had everything in her dream-man drawer. The Season 1 finale had Maria finally in the arms of the lovable, burly Scott (Ólafur Darri Ólafsson), but what troubles will be on the horizon that will send their romance back into turmoil?
7. Most importantly: Can we get more guest stars…and pugs?
Many of Maria's funny friends stopped by throughout Season 1, from Patton Oswalt to Judd Apatow, and perhaps they'll come back on through for Season 2. Also, I'd be lying if I didn't admit Bert, Maria's adorable pug, was the real star of this crazy cast in my eyes. He found a voice last season (with the help of Kyle McCulloh). Anyone else looking forward to his comments when Maria and Scott reportedly move in together?
Lady Dynamite Season 2, Nov. 10, Netflix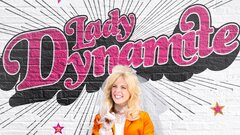 Powered by