Will Ferrell-Produced CBS All Access Comedy 'No Activity' Drops First, Uncensored Trailer (VIDEO)
CBS All Access' first original comedy, No Activity, has released its first trailer. The new series, which has the talent of executive producers Will Ferrell, Adam McKay, and Funny Or Die behind it, promises big laughs and expert comedic timing.
According to CBS' description, the show "Follows two low-level cops who've spent far too much time in a car together; two criminals who are largely kept in the dark; two dispatch workers who haven't really clicked; and two Mexican tunnelers who are in way too small a space, considering they've only just met."
No Activity is based off an Australian show of the same name and pokes fun at the types of high-pressure situations some cops find themselves in everyday.
The stellar ensemble cast includes Patrick Brammall (who also starred in the Australian series) and Tim Meadows, with guest stars such as Mark Berry, Arturo Castro, Mackenzie Davis, Bridget Everett, Ferrell, Darren Gilshenan, Travis Guba, Jake Johnson, Sunita Mani, Jason Mantzoukas, Adrian Martinez, Jesse Plemons, Fred Pohl, Alex Rodriguez, Amy Sedaris, J.K. Simmons, Courtenay Taylor, Michaela Watkins and Daniel Zolghadri. It's a comedy jackpot.
Watch the NSFW trailer here:
No Activity, Series Premiere, Sunday, Nov. 12, CBS All Access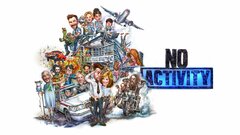 Powered by