Paramount+ Begins Removing Shows: 'Real World Homecoming,' Jordan Peele's 'Twilight Zone' & More
Following the impending blending of Showtime into Paramount+, Paramount+ is now removing titles from its platform. The list includes all seasons of The Real World Homecoming, which seemingly has not been canceled.
The series began with The Real World Homecoming: New York in 2021 followed by The Real World Homecoming: Los Angeles and The Real World Homecoming: New Orleans in 2022.
In total, Paramount+ has removed seven titles so far, per Deadline. They are:
The Real World Homecoming (all three seasons)
Peter Sarsgaard-led Interrogation
Patrick Brammall and Tim Meadows-led No Activity
Kate Beckinsale's Guilty Party
Animated series The Harper House
The Twilight Zone, No Activity, Coyote, Interrogation, and Real World were all CBS All Access originals at first. They became part of Paramount+ after the CBS All Access rebrand.
Showtime also removed a handful of titles from its platform in anticipation of its streaming merger with the network. Showtime has axed Kidding, Super Pumped, On Becoming A God In Central Florida, and American Rust. The network also canceled a handful of series ahead of the merger. Let the Right One In, Three Women, and American Gigolo all got the ax.
Showtime and Paramount will soon be merging. The merge of both the linear and streaming platforms was officially announced on Monday, January 30 after months of speculation. As part of this merge, Showtime's linear pay-TV channel, as well as the premium tier of Paramount+, are getting a new name. They will both be rebranded as Paramount+ with Showtime in the near future.
It seems the standalone Showtime app could be shutting down as its content is absorbed into Paramount+'s premium tier. Paramount+ originals will also join the Paramount+ with Showtime linear channel, making it so shows like the Yellowstone spinoffs, 1883 and 1923, can be played beyond streaming.
As Paramount boss Bob Bakish said in a memo to staff on January 30 (per Deadline): "Showtime has captivated audiences for decades with ambitious original series that defined premium content and fandom. Its name will always stand for critically acclaimed, groundbreaking entertainment and creative excellence. Now, with Showtime's content integrated into our flagship streaming service, and select Paramount+ originals joining the linear offering, Paramount+ will become the definitive multi-platform brand in the streaming space — and the first of its kind to integrate streaming and linear content in this way."
Details on the pricing and plan for those with both Showtime and Paramount+ streaming subscriptions will be shared in the following weeks.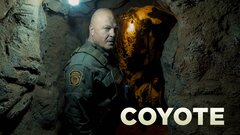 Coyote
where to stream