WATCH: Cloud 9 Employees Discover a Corpse in Deadly 'Superstore' Halloween Episode
In the Halloween-themed Oct. 26 episode of Superstore, the Cloud 9 workers are horrified to discover the body of their former colleague, Sal, buried in a wall.
"It's not the first time someone has died in [the store]; I'm going to guess it's not going to be the last," America Ferrera (Amy) says with a laugh.
For better or worse, Sal's decomposed corpse fits in with the rest of the holiday décor. Store manager Glenn (Mark McKinney) tries valiantly to fix things, but naturally they go awry. "He just wants it gone—he has a corpse sticking out of his wall!" McKinney laments. "This is not a good day for Glenn."
But assistant manager Dina (Lauren Ash), once again donning her sexy cop costume, is thriving in the chaos. "She is taking things very seriously," Ash says. "Obviously, the store is very important to her, and the fact that there is a dead body in the walls is not ideal—I don't think she cares about the person who died, but I think she cares about the implications that this is a crime scene. She's definitely in full law enforcement-enthusiast mode."
Even though the Cloud 9 employees lost a colleague, no one is exactly shedding tears over his death. "Sal was a bit of a creep, so for him to die behind some drywall makes perfect sense," Colton Dunn (Garrett) acknowledges. "And then we have a little bit of a Weekend at Bernie's game going on at Superstore."
In death, Sal may end up proving useful to Mateo (Nico Santos), whose undocumented status jeopardizes his ability to travel overseas for a family wedding. "We find Sal—may he rest in peace—and Cheyenne convinces Mateo that he needs to use [Sal's] passport," Santos teases. "She transforms him. It's crazy."
Cheyenne's (Nichole Bloom) work on Mateo isn't a one-off situation, either. "This episode is fun, because you find out more about Cheyenne and her aspirations outside of the store," Bloom says. "She wants to be a special-effects makeup artist. She's a real artist. I think people will be surprised to see she's skilled at something."
Things are decidedly lighter elsewhere in the store, as Jonah's (Ben Feldman) time on a dating app leads to hilarious drama. "Jonah's trying to meet the ladies," Feldman says. "Clearly he's not that fazed by the corpse that's hanging out on the wall of where he goes to work. If you let it impact you, you let the corpses win."
However, newly single Amy becomes fascinated by Jonah's exploits…and accidentally connects him with Cloud 9 newbie Kelly (Kelly Stables). "Amy is not good at it, shall we say," Ferrera allows. To try and make things right, she goes to Garrett, hoping he can assist her. "We all think of him as the techie guy. So she's trying to figure it out."
Check out an exclusive clip from "Sal's Dead"!
Superstore, Thursdays, 8/7c, NBC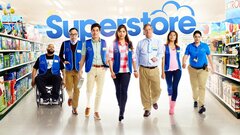 Powered by