'Superstore': The Cloud 9 Staff Gets in the Halloween Spirit
Get ready to see a new side of the Cloud 9 employees in Superstore's Halloween episode.
"This may be his favorite time of year, in fact," Mark McKinney says of Glenn's unbridled enthusiasm in "Halloween Theft." (Glenn dresses up as a hot dog.) "He likes to think it's because he loves children, and he does, but I think it's because he's a giant child himself."
However, predictably, not everyone is in the holiday spirit. "Dina doesn't care about Halloween: it's just an annoyance to her, obviously," Lauren Ash (Dina) says. "It's the time of year when there are a lot of pranks happening, a lot of mischief. She doesn't care for that. She's very on edge in general, and having to be at work and seeing what the customers are buying and what they're potentially going to do."
RELATED: Halloween Preview: The Best Trick-or-Treat Episodes
Dina's suspicions about the holiday prove to be correct when food (that was set to be thrown away) appears to be stolen from the store. "We were breaking this episode about an employee theft, and we wanted it to be something that wasn't particularly valuable—so you're not wondering so much who took it or hating that somebody took it; we wanted it to be something low stakes," executive producer Justin Spitzer says. "So Dina, by making everyone stay until she finds the crook, it feels like she's going overboard."
The Superstore writers initially planned on the stolen item being a broken toaster, before landing on damaged fruits and vegetables. "We've been reading so much about the ugly fruit movement…the astonishing amounts of fruits and vegetables that are cosmetically imperfect that are thrown away each year," Spitzer says. "I think it's something like 20 billion pounds a year. And I read an article that Wal-Mart had started selling cosmetically imperfect apples in a bunch of their stores…when there's something that's within the world of our show, why not talk about it?"
RELATED: Dress Up as Your Favorite TV Character for Halloween
Complicating Dina's interrogation is the fact that she belatedly decides to put on a costume…but picks up the first one she finds. "It just happens that costume is very different than how she normally dresses, and that's causing a lot of stir among the other employees," Ash says. "It's been really fun to get out of the polo and khakis, I can't lie."
Spitzer touched base with Ash ahead of time to make sure she'd be comfortable in Dina's revealing costume, and she admits she cheered for the opportunity. "Every time I've missed a call from Justin or I see I have a call from Justin, I get so excited," she says, "because he's going to be asking me about something that requires a phone call, which means it's probably going to be pushing limits in some way. And that makes me so excited. I love this episode."
Not everyone is thrilled with Dina's outfit. "He's trying not to be a ladies man," Colton Dunn (Garrett) laments of the discomfort his character—who dresses up as 007—experiences. "Dina has a very revealing costume, and even though Garrett doesn't get along with Dina, he's still very attracted to her in her costume."
RELATED: My Boys Vet Books Recurring Role on Superstore
Though Dina's costume is unplanned, the rest of the team puts a bit more effort into their gear. "Our wardrobe is basically the same thing every episode and you get a vest over it; the opportunity to play dress-up, and change a look within this character is always really, really welcome," America Ferrera (Amy) says of her character's Cleopatra look. "The costume I get to wear is so much fun. What I particularly love about it is Amy loves Halloween. And we got to pick something that allowed her to go overboard and get really into the details of it." Adds Spitzer, "Amy can be cynical about a lot of things, but we wanted to show she wasn't cynical about Halloween."
Nico Santos' Mateo showcases his patriotism with a cowboy getup—"Mateo is so drawn to being American and believes in the American dream," Santos says. "He's really trying to achieve that."—while Nichole Bloom's Cheyenne goes as the Pokemon character Pikachu. "I think [it] is really fun," Bloom says. "Pokemon is such a big thing this year, and it also was while I was growing up."
But not all costumes are obvious: Ben Feldman's Jonah goes as Brexit. "There was a moment earlier when all of the child actors were on set, and everyone else is so clearly something," Feldman says. "And Jonah is this obnoxiously exoteric political statement. And to explain that to little kids who were like, 'Are you an exit?'"
RELATED: Superstore: An Accidental Strike, Amy and Jonah's Relationship Grows and More
There could be a more local political upheaval after Glenn visits another Cloud 9 store—and is shocked to see the manager being treated with respect. "He has to do something, things can't stay where they are," McKinney says of the tension between Glenn and Dina. "He's perplexed. It finally gives him the fuel to have a showdown with her."
Scary times at Cloud 9.
Superstore, Thursdays, 8/7c, NBC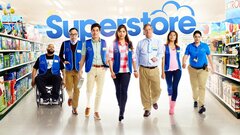 Powered by