Syfy Renews New Series 'The Expanse' for Season 2
Syfy's The Expanse will expand into a second season.
The show, which airs Tuesdays at 10/9c on Syfy, will be back in early 2017 with a new season consisting of 13 episodes.
"The Expanse is firing on all cylinders creatively, building a passionate fan base among viewers and critics alike, and delivering on Syfy's promise of smart, provocative science fiction entertainment. We can't wait to see where the story takes us in season two." says Syfy/Chiller president Dave Howe.
RELATED: Read Matt Roush's Review of The Expanse
The show is currently averaging 1.6 million viewers after three days' worth of DVR and VOD usage, according to Syfy. The show, which debuted Dec. 14, returns with a new episode on Jan. 5.
The Expanse, set 200 years from now, centers on a detective (Thomas Jane) and ship's captain (Steven Strait) investigating the case of a missing woman–ultimately exposing a vast conspiracy across the solar system.
Chad Coleman, Florence Faivre, Shohreh Aghdashloo, Dominique Tipper, Cas Anvar and Wes Chatham also star. Mark Fergus and Hawk Ostby are executive producers and showrunners, along with Naren Shankar.
Alcon Television Group (ATG) is behind the show, which is based on the book series collectively known as The Expanse.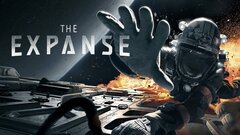 Powered by