First Look: Catherine Zeta-Jones Plays Ruthless Drug Lord in 'Cocaine Godmother'
She certainly wasn't the bibbidi-bobbidi-boo type. Ruthless Colombian drug lord Griselda Blanco (Catherine Zeta-Jones), the real-life subject of Lifetime's biopic Cocaine Godmother (coming in January 2018), earned her nickname through a reign of terror in the 1970s and '80s.
She even allegedly killed her second husband, Alberto Bravo (Juan Pablo Espinosa), in a parking lot gunfight. But Blanco was also a loving mom of four—a contradiction that made her a dream role for the Oscar winner.
"Catherine didn't want to sugarcoat Griselda's behavior," says Lisa Hamilton-Daly, Lifetime's vice president of original movies. "She was fiercely devoted to her kids, even as she was willing to use violence against other people's children. Catherine gives her that emotional depth."
Cocaine Godmother, January 2018, Lifetime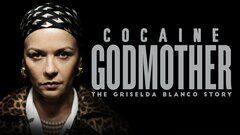 Powered by