WATCH: Lifetime's 'I Am Elizabeth Smart' Releases First Trailer
The first trailer for the upcoming Lifetime movie, I Am Elizabeth Smart, was released and depicts the harrowing, true events of Elizabeth Smart's abduction when she was just 14 years old.
In the case that captivated the nation, Smart was kidnapped from her Salt Lake City bedroom in June 2002 and was held captive for nine months by Brian David Mitchell and his wife Wanda Barzee. Smart was physically and sexually violated until her rescue in March 2003.
The scene in the trailer shows the terrified young girl, played by actress Alana Boden, being held at knife point by Mitchell in the bedroom she shared with her younger sister. "Get up and come with me or I will kill you and I will kill your family," he says.
The TV movie is narrated and produced by the real Elizabeth Smart and she visited the set a number of times. Smart told People magazine, "It is the best worst movie I've ever seen. It was so well done and accurate. I'm very proud of it."
Currently, Mitchell is serving a life sentence after being found guilty of kidnapping and assault. Barzee pled guilty and testified against her husband.
Watch the trailer below:
I Am Elizabeth Smart, Nov. 18, 8/7c, Lifetime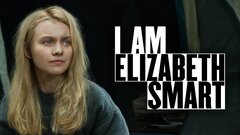 Powered by