'Cheetah Girls 2' Stars Raven and Belinda Reunite, Sing for Fans
Disney Channel fans are freaking out over two of their favorite TV movie stars reuniting. The Cheetah Girls 2 stars Raven-Symoné and Belinda hung out and live-streamed their car ride together singing songs from the beloved Disney movie.
The original movie premiered in Summer 2006, and we still can't get the infectious melodies and catchy lyrics out of our heads. Symoné played Galleria, one of the girls who made up The Cheetah Girls, which also included Chanel (Adrienne Bailon), Dorinda (Sabrina Bryan), and Aqua (Kiely Williams). Belinda, who's a Spanish pop star IRL, also played one in the movie which took place in Barcelona.
11 years later, the two are still close friends and decided to reconnect with fans. Symoné said in the video, "Today is a bomb moment because my bestest friend from years ago is chilling with me today… her name is Belinda."
The two sang "Amiga Cheetahs" and "A La Nanita Nana" but some of the words were a little fuzzy.
Raven AND Belinda singing Amigas Cheetahs from The Cheetah Girls is everything pic.twitter.com/guEXRARFNA

— nieves (@starleo85) October 18, 2017
Symoné added, "Out of all the Cheetah Girls, we survived together as friends, for a long time."
Currently, Symoné is working with Disney Channel on the second season of her new show called Raven's Home which is a follow-up to her original show That's So Raven.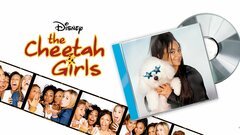 Powered by