Behind-the-Scenes Look at 'Vikings' "Cheese Grater" Siege Ladders (VIDEO)
https://player.waywire.com/?id=21V56S1YW98P8RHR
The French may be known for their cheese, but as Floki discovers in Season 3 of Vikings, it takes more than "cheese graters" to conquer medieval Paris.
In this exclusive clip from the upcoming Season 3 DVD, part of the Fox Home Entertainment Holiday Collection, stunt action designers describe the details of the boxy siege ladders that floated their way down the Seine—before being reduced to bloody cinders against Paris's walls in the season's eighth episode, "To the Gates."
Attacking Paris is the bloodiest, most challenging conflict the characters on the show have attempted to date, and to start off this clip, Travis Fimmel (Ragnar) discusses how the siege broke a long streak of successful battles for the Vikings.
The Season 3 DVD will be released on Tuesday, Oct. 6 and will also include deleted scenes and special features on how the show created their version of Paris, plus the politics of Ragnar's reign.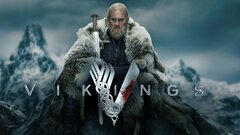 Vikings
where to stream
Powered by