'Z Nation' Season 2 Finale: Creator Karl Schaefer Answers Burning Questions
Spoiler alert! Do not read further if you haven't seen tonight's Z Nation season finale.
The explosive zombie-slaying dramedy Z Nation wrapped up Season 2 tonight, and not everyone made it out alive. Primarily, La Reina (Gina Gershon) and her undead Zero clan wanted to claim Murphy (Keith Allan) after "the package" had already been passed off to the CDC, thus closing the series-long journey to the California base. However, that base (which was on a pretty badass-looking submarine) subsequently blew up. Luckily, Murphy survived and claimed a few more blended prisoners along the way. To top it all off, in one of the last scenes of the episode, we saw Warren (Kellita Smith), Addy (Anastasia Baranova), Doc (Russell Hodgkinson) and their new pal Escorpion (Emilio Rivera), surrounded by soldiers with guns after two threatening planes flew overhead. Yikes.
Tonight almost felt like a series finale, especially with the "puppies and kittens" reference when Warren says goodbye to Murphy, which is a callback to the pilot. Did you know you were coming back when you shot that scene?
Yes, we knew we were coming back, but we write every season finale and throw as much stuff up in the air. Our show is all built on unpredictability, so you really have no idea what's going to happen next. I would say, as different as Season 2 was from Season 1, Season 3 will be that again. There will be lots of zombies and lots of gore, everything people come to a zombie show for, but the world is going to evolve again, as will Murphy. Murphy will look and behave in a whole new way.
There are so many different things going on for our group: the CDC submarine is smoking, Murphy's got some new blended slaves, there's planes flying overhead and all these soldiers pop out, too.
Right. The Chinese planes are overhead and there's a group of Asian soldiers. In the way that this season had a sort of Latino flavor, we're widening globally in Season 3, and a group of soldiers and scientists will be coming to America in search of Murphy and join the chase.
And they're separate from Zona?
They're actually competing with Zona. They're the survivors that were left in Asia, and they have planes and fuel and a certain number of resources still. They have sent a team; they've been monitoring Citizen Z's (DJ Qualls) broadcast as well.
Speaking of, Citizen Z has finally left the NSA's Northern Light. Can you hint at who is possibly walking towards him in the episode? Friend or foe?
I'll just say [the person is] a she. It's an Eskimo girl, and the story's going to take a turn that not many people will be expecting at all. I will tease something for Season 3: You may see Citizen Z down in the lower 48. I'm not sure, though. I can't promise anything yet. It's only Day 2 in the writers' room.
Now for what everyone wants to know: Is 10K (Nat Zang) okay?
He's okay, but something totally unexpected has happened to him, and it will change his character a great deal next season.
Are we officially done with the Zeros now that La Reina has gone down?
I think so. Escorpion will be hanging around, I think. He's going to join the group next season.
Is Vasquez (Matt Cedeño) going to catch up to the group?
We're talking about that right now. He just ran off into the apocalypse so we can do anything we want, but all of that hasn't been decided yet.
And Dr. Merch (Lisa Coronado) is alive, and now she's one of Murphy's slaves. Why did he keep her alive instead of acting out on his, "I'll eat your brains," threat?
He's got a plan. He believes that Dr. Kurian (Donald Corren) was probably right–the blends are who will survive. The zombies will die out from the lack of humans to eat, the humans will die out because they'll all get infected eventually, and the only one's that'll survive will be the blends. So he has kidnapped Dr. Merch, instead of using his blood to make a vaccine for a few billionaires on Zona. He's decided to make a vaccine so that he can infect as many people with his blood as possible and build his zombie army and save what's left of humanity [by making] blends.
But the blends that have come up, like Cassandra (Pisay Pao), didn't really retain any humanity.
Right. He wants her to make a vaccine that will a) make him more human, and b) create a blend that is more human, with more of the immunity but fewer side effects of being a blend.
It was really interesting when Cassandra asked Murphy what sicknesses he had as a child. He's got a lot going on in his body already, so I feel like that cocktail is the reason why he's so special.
That is why his blood is special! Whatever the cocktail was, whatever he brought to the party with him, being bitten while getting the vaccine is the combination that makes him special.
What's the biggest tease you can tell us about next season?
Our Big Bad character for Season 3 is basically the bounty hunter of all bounty hunters. He is working for Zona and has come back for Murphy, but not finding Murphy, he decides to go after his baby, Lucy.
And finally, that last shot with Lucy–did she age super quickly?
Yes. In the course of this season, she's going to grow up to be a teenager. She's going to be a force to be reckoned with. While Murphy is always struggling to understand his power with zombies, she's grown up with it. It's second nature for her. Her attachment with zombies is much closer than Murphy's. Plus, she's got her crazy mom's genes as well, and she loves pie.
Z Nation returns for Season 3 in 2016.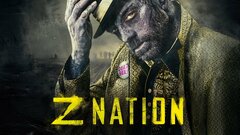 Powered by