See 'Z Nation's Addy Battle a Deadly Zero on the Season 2 Finale (VIDEO)
https://player.waywire.com/?id=BN4HD106Z12PSZZB
This Friday marks the Season 2 finale of Syfy's zombie gorefest Z Nation, and if last season's wild finale was any indication, this show likes to end things with a bang.
Addy (Anastasia Baranova) goes to battle with one of the Zeros, who found our gang as they reached their final destination in California. "La Reina (Gina Gershon) and the Zeros have caught up to our heroes in search of Murphy (Keith Allan), who is already gone," executive producer Karl Schaefer says. "He has been picked up by the people at the CDC lab." We can only imagine how angry that makes the somewhat-blended half-dead Zero leader, La Reina.
While Addy steps up to the plate to take on one of the henchmen, Schaefer warns, "In the course of the fight, something terrible happens to the Z-Wacker." But "she definitely does not back down," Schaefer adds.
Watch the exclusive clip above to see Addy take on the silent Zero.
Z Nation's Season 2 finale airs Friday, December 18 at 10/9c on Syfy.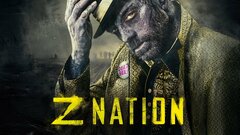 Powered by