'Star Trek: Discovery': Anthony Rapp on Breaking New Ground and What's Next for Stamets
[Spoiler Alert: Do not read ahead if you have not watched Sunday's new episode of Star Trek: Discovery. Major plot points discussed ahead.]
Back in July at the Star Trek: Discovery panel at San Diego Comic Con, star Sonequa Martin-Green (who plays Michael Burnham) addressed the show's diversity in its cast: "Star Trek has always been pictorial of diversity and inclusion and universality. It's one of the main reasons it's so important to so many people to this day. So if you say you love the legacy of Star Trek, but you don't love that, you've missed [the point]." The show proved in its Oct. 15th episode (its fifth) that it's not just talking the talk, but also walking the walk.
While viewers met Dr. Hugh Culber (Wilson Cruz) in last week's episode, in Sunday night's episode we saw him interact with his boyfriend, Science Officer Paul Stamets (Anthony Rapp). Their interaction was nothing out of the ordinary, just another moment in CBS All Access's addition to the Star Trek canon.
Also in the episode was the introduction of a younger incarnation of villain Harry Mudd (first seen in the original Star Trek series and now played by Rainn Wilson) and why Mudd swore revenge on Discovery Captain Lorca (Jason Isaacs).
Of course, since this is Star Trek, the simple scene with Stamets and Culber brushing their teeth and talking before heading to bed also had a juicy tease for what's to come. The scene also revealed that there's something up with Stamets, who may have had his DNA scrambled earlier in the episode, thus leaving him, well, not the same.
While we wait until next week's episode to see just what is wrong with Stamets and how it will play out, Rapp talked to TV Insider about this week's episode, Stamets' relationships with other crew members and how it's been for the actor to be working with his longtime friend, Cruz.
There is some definite tension between Stamets and Lorca. Is that about work or is there something more personal happening?
Stamets did not join Starfleet to become a soldier. Stamets joined Starfleet to have the infrastructure of research materials available to him and he is being pressured to weaponize research, make it a military operation, instead of an exploratory operation. That is just chafing the core values of Stamets so its that combined with these two very willful, intelligent people butting heads.
Stamets was very frosty to Burnham in the beginning. How does he feel about her by the time we've gotten to this week's episode?
She's earned his respect by demonstrating her fortitude and her scientific curiosity and her scientific method and her willingness to stand toe to toe with him. Stamets respects people who don't back down and also demonstrate real curiosity, scientific curiosity and principle scientific curiosity. All those things have been demonstrated. Also, we wind up collaborating on the solution and any scientist, especially going toward that, would have to respect that. There's been hard earned respect and regard for the quality of scientist and the quality of person that she is.
Harry Mudd makes his first appearance in the episode. Safe to say we'll see him again and will the entire team be affected?
There is an episode where we do have some interactions. And it was a blast to work with him. He's tremendous. He's a great person and, you probably know this, he's a long time Trekkie so he was just so excited to be there and he's given some really delicious material and he absolutely makes the most of it.
What do you make of the fact that the relationship between Stamets and Culber isn't made a big deal of on the show? That bathroom scene towards the end said so much without verbally saying much.
That feels very in keeping with the whole approach that we wanted to make, which was that it isn't a big deal to anyone, it's just part of the fabric of the story. It was a nice way to reveal it through show/don't tell stuff. You see us in an intimate matter, but it's intimate in the sense that we're just having a domestic moment. I think that's really meaningful, in and of itself. We're in the midst of our relationship and it's been ongoing, and we're on the ship together, we work together, and I find that really interesting, and it's certainly new for Star Trek.
Even if we don't see it on the show, did you and Wilson create backstory for the characters and their relationship?
Yeah. We have some information about that that has been very helpful to us.
Safe to say given your friendship with Wilson that it's been a pretty easy working relationship?
Yeah, because we had a comfort and friendship and ease and trust and respect and all of that. So, yeah it was just, like, step into the shoes of these characters and be there for one another. It's been a total pleasure.
So what can you say about the end of the bathroom scene where we see something definitely is not right with Stamets? I'm guessing more in the next episode?
It'll keep coming. You know, fusing the DNA of the tardigrade to my own DNA has opened up some interesting repercussions.
Have you kind of gotten over the surreal ness of the fact that you're in Star Trek?
It still feels somewhat surreal to me at the same time as a viewer of the shows themselves, I'm also just really compelled by the episodes and my fellow actors' work and the storytelling and the camera work. I feel like I get to do both as a real fan and consumer of it as well as participate in it so it's just a wild mixture. I've never been a regular on a TV show before, let alone something as significant and notorious as this. It's kind of blowing my mind on a regular basis.
Star Trek: Discovery, Sundays 8:30/7:30c, CBS All Access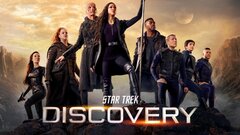 Powered by