Michelle Yeoh Will Return to 'Star Trek: Discovery'
The cast and producers of Star Trek: Discovery were stunned when Michelle Yeoh surprised them during the series' panel at New York Comic Con. Yeoh concealed her face in a mask as she approached a mic pretending to be an audience member with a question. When she removed the mask to reveal her true identity, both the crowd and her cast mates went crazy.
Yeoh's character, Captain Philippa Georgiou, was tragically killed in the two-hour premiere of the CBS All Access series when her ship fell under attack.
Yeoh joined the rest of cast onstage and had a stern warning for Captain Lorca (Jason Isaacs). She said, "I'm telling you Captain Gabriel Lorca, if you don't look after my baby girl I'm going to kick your ass."
Of course Yeoh is referring to her on-screen protégé Michael Burnham (Sonequa Martin-Green). Burnham's future is unclear as she's trying to comes to terms with Georgiou's death and her new role on Lorca's ship as the threat of Klingon war grows near.
Executive producer Gretchen J.Berg revealed Yeoh isn't done with her role quite yet: "You will see more of this woman on the show."
Star Trek: Discovery, Sundays, 8:30/7:30c, CBS All Access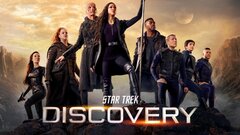 Powered by