WATCH: The Stars of 'X-Files' Share Their Social Media Secrets
Happy 10/13, The X-Files fans!
October 13th—AKA series creator  Chris Carter's birthday—and variations of 10-13 have long been used in The X-Files universe, with Fox Mulder's (David Duchovny) birthdate being one of the most memorable in-series nods.
Since then, fans of the iconic series have celebrated the day as their own mini-holiday, and we're here to bring a little more The X-Files to your world.
The X-Files cast—Duchovny, Gillian Anderson (Scully), and Mitch Pileggi (Skinner)—and Carter visited the TV Insider suite at New York Comic Con last week. With the stars embracing social media during the production of the new event series, Anderson reflects on why she can't post some of the photos she takes and Duchovny shares who may be upstaging him.  (And stay tuned for their teases about Season 11!)
The X-Files, Season Premiere, 2018, Fox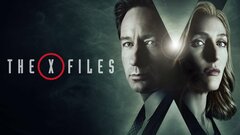 Powered by