First Look: It's Double the Trouble on 'Ash vs. Evil Dead' (PHOTO)
Are two Bruce Campbells better than one? You bet your sweet Ash!
"I am so excited about the last episodes of the season," says the actor, who faces off with himself in the horror-com's penultimate outing on December 26 after his demon hunter's severed hand suddenly sprouts into a whole other Ash.
RELATED: (VIDEO) Director Sam Raimi on Ash's 'Tiny Bit of Nobility'
"Obviously, some really bad s–t is going to happen. It's a horror series!" Campbell says with a laugh. "I'd bet one of them is not a good guy." And we bet we'll see him again, since Starz has already renewed As vs. Evil Dead for a second season.
Ash vs. Evil Dead, Saturday, Dec. 26, 9/8c, Starz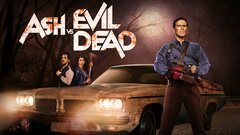 Powered by