Here's How 'Supergirl''s Hank Henshaw Became the Martian Manhunter
It's the twist that shocked Supergirl fans! In the final moments of last week's episode, we found out that grumpusaurus DEO chief Hank Henshaw (David Harewood) was actually J'onn J'onzz, better known in the DC universe as the Martian Manhunter. Of course, there've been questions about Henshaw's deal since day one, given his obsession with monitoring aliens on Earth, his prickly dynamic with Alex (Chyler Leigh) and early disdain for Kara (Melissa Benoist). But mostly, those suspicions were that he'd shape up to be a baddie (in the comics, Henshaw is the supervillainous Cyborg Superman), not the kindly, telepathic lone survivor of a destroyed planet. Was this the plan along?
"No!" swears Supergirl executive producer Andrew Kreisberg, crediting DC Comics chief creative officer Geoff Johns for the curveball. "This is a true story: On the pilot, [fellow exec producer] Greg Berlanti, Geoff Johns and I were standing around talking about how much we love David in the part of Hank. I don't remember the specifics of who said what, but it was along the lines of 'David has such a great voice, it's too bad we cast him in this because if they ever do a Martian Manhunter movie, he'd be great for it.' And it was Geoff who said 'Who says he can't be the Martian Manhunter?'" After that, Kreisberg adds "we all started to think about and realized that if the Hank Henshaw we had created was an invention of J'onn to protect his true identity, it actually gave him an even more soulful back story than we had conceived."
Since they were still shooting the pilot when the idea to turn Henshaw into Martian Manhunter was hatched, there was some temptation to slip in a few hints about his non-human nature. "We were going to do some foreshadowing, but then we decided to let people think Hank is who he is, let them think he's the antagonist," continues Kreisberg, comparing the misdirect to another fast one he pulled on The Flash. "There, we had Harrison Wells, a really good guy who turned out to be the worst guy ever, so what if we had a seemingly antagonistic character on Supergirl who turned out to be not just a good guy but the warmest soul in the DC Universe?" he says. "We also just thought the similarities between J'onn and Kara's backstories made them a great pairing. In the comics, J'onn lost two daughters when Mars was destroyed, and we have created a show with two sisters who have lost their father…it just fits."
RELATED: Why Supergirl's Kara Danvers Wears Glasses
Now that we have seen J'onzz in all of his glowing-eyes, seven-foot glory, viewers should get used to the green guy being around. "You're gonna see J'onn a bunch" after the show's winter hiatus, promises Kreisberg, adding that viewers will also learn who else knows J'onn's identity. But first, there's the matter of Monday's fall finale, which leaves us with "two massive cliffhangers" and a parting shot from Kara that has Kreisberg flying as high as our heroine. "We end on one of my favorite lines I have ever written!"
Supergirl's fall finale airs Monday, Dec. 14 at 8/7c on CBS.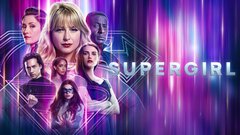 Powered by