The Flash Finale Preview: Everyone Was Crying at the Table Read
After weeks of racing around trying to find out what mentor-turned-maniac Harrison Wells (Tom Cavanagh) has been hiding, The Flash's Barry Allen (Grant Gustin, above right, with Cavanagh) is about to run out of time. Literally.
In the breakout hit's first-season finale, which airs Tuesday (8/7c, The CW), "Barry is questioning what he should do to stop Wells," executive producer Andrew Kreisberg says. A mind-boggling turn of events from the previous episode finally clues Barry in to Wells's motives, and that leads to a long-awaited reveal about how the mad scientist—whose body has been inhabited by the villainous time-traveling Eobard Thawne (Matt Letscher), aka the Reverse Flash—plans to use Barry's speed skills to return to the future. "We have this epic 10-page scene of Barry talking to Wells that answers all of the questions viewers have had," promises Kreisberg of the big bad's catastrophic master plan. "It explains how and why everything has happened."
In addition, this epic face-off fills in some holes about the years-ago murder of Barry's mother, a case that both Barry and his foster father, Det. Joe West (Jesse L. Martin), have reexamined throughout the course of the season. But it's what Thawne spills about the future lives of various Team Flash members that could stop the fastest man alive in his tracks (and possibly also extremely upset some shippers).
Armed with these supersize spoilers, Barry is forced to face a series of unthinkable options that could rewrite the past, erase his current life, or save the day at a massive cost. What's a guy to do? Crowd-source and keep the tissues close by, apparently. "Barry goes and talks to everyone in his life," explains Kreisberg. "And their advice for what he should do is often surprising and heartbreaking." So much so, the producer warns that fans should prepare themselves for an episode packed with equal doses of adrenalized action and devastating twists. "When we had the table read for this episode, it was hard for everybody to get through it," Kreisberg admits. "It was so unbelievably emotional. People were reading dialogue and wiping tears away."
The Flash, Season finale, 8/7c, The CW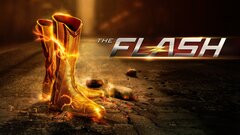 Powered by