'Last Man Standing': Mike Baxter Recalls Why His Favorite Christmas Wish List Toy Got Banned (VIDEO)
DItZW15E
Ah, Christmas. There's nothing like sweet holiday memories…unless you talk to Mike Baxter (Tim Allen).
On the fall finale of Last Man Standing, "Gift of the Wise Man," when Boyd (Flynn Morrison) shares he's writing a Christmas wish list, Mike starts reminiscing about his favorite toy as a kid: lawn darts. Except Mike's description of big pieces of steel "polished to a point with little wings on it" seem rather, um, dangerous—especially with neighborhood buddies as random targets.
RELATED: 17 Holiday Episodes to Make This December Merry and Bright
But Mike's trip down memory lane may give Boyd the wrong ideas about what to ask Santa.
Watch the exclusive clip above for Mike and Boyd's hilarious interaction, and then tune into the full episode, which also revolves around Mike's plan to have everyone rediscover the true meaning of Christmas by eliminating gifts.
Last Man Standing, Fall finale, Friday, December 11, 8/7c, ABC
RELATED: Get a sneak peek of other ABC fall finales: Dr. Ken | Shark Tank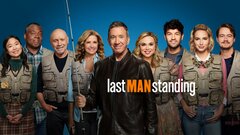 Powered by