Forever's Ioan Gruffudd on Immortality, New York's Charms and How to Pronounce His Name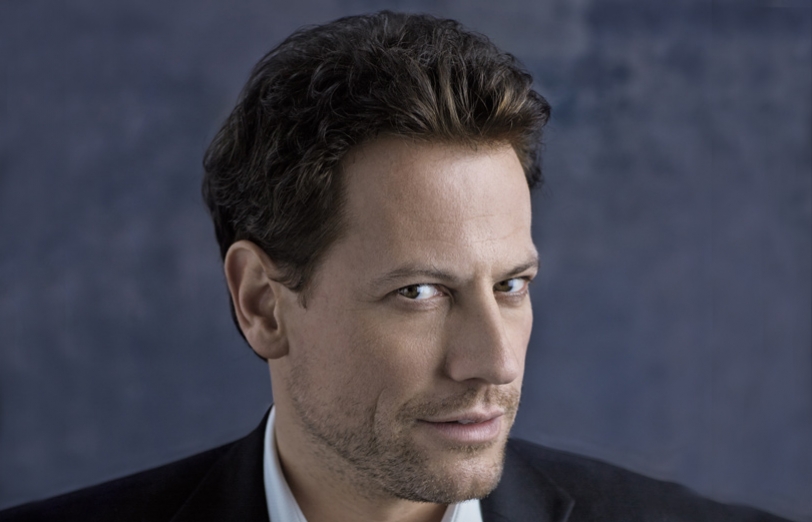 For Henry Morgan, the protagonist of ABC's freshman crime-solving drama Forever, time is a burden. The 235-year-old medical examiner–played by the heart-stoppingly handsome Welsh actor Ioan Gruffudd–has been inexplicably cursed with the unwanted gift of immortality, forced to spend centuries contemplating his peculiar condition while he gradually outlives everyone he loves. But a recent visit to the show's downtown Manhattan set shows a very different story: Here, precious hours are in short supply as Gruffudd and costar Judd Hirsch–aka Abe, Henry's now-septuagenarian adopted child–are attempting to knock out a scene for the February 3 episode. They've been burning daylight since dawn in the drafty three-story building. People are hungry and anxious to move along; and just as the actors are about to nail the take, a truck idling on the street below blasts its horn, successfully drowning out their final bits of dialogue.
If Gruffudd were not a man of such impeccable manners, this might be an appropriate occasion to unleash an expletive-filled tirade. Making 22 hour-long episodes of network TV is labor-intensive, especially when you're in nearly every scene. "I average 16-hour days," says Gruffudd, a veteran of the U.K.'s Horatio Hornblower series and the Fantastic Four films. "The tired creeps in." Clearly, the irony of keeping such a punishing schedule while his on-screen alter ego remains eternally fresh-faced is not lost on the 41-year-old actor. "I absolutely think of that every time I come home at night and look in the mirror," he says with a laugh.
Luckily, the gig comes with plenty of perks. As Henry, Gruffudd gets the chance to bounce between time periods–Forever frequently links modern-day cases to historical flashbacks–showing off almost as many sides to his personality as he does sideburn styles. "The casting for this role was extremely exhaustive," says creator Matt Miller, noting that he had begun to lose hope until he spotted Gruffudd on the carpool line at their kids' preschool. "Ioan was wearing these amazing white loafers, and I thought, 'Wow, that guy's incredible! If he can pull off that, maybe he can pull off Henry Morgan.' When he came in to read, it was so clear he was the one."
Hirsch had a slightly less reverent first impression. "I was trying to understand how to say his name!" the Taxi vet remembers. (For the record: It's pronounced Yo-an Grih-fith.) "I said, 'How can you go through life like a misprint?' But what a gentleman." From there, the rapport grew. "We've gotten into a really good rhythm," says Gruffudd, "so now a lot of our scenes are just reacting to each other and being part of a classic father-son relationship."
That closeness will be exploited by Henry's nemesis, Adam (Burn Gorman), a fellow immortal who's ensnared the ME in a wicked and potentially never-ending game of mental chess, when he drops by Abe's antiques store in an upcoming episode to chat about 18th-century artifacts. Henry learns of the chilling encounter and ultimately comes face-to-face with Adam in a cemetery, but their meeting won't necessarily produce the usual, ahem, grave results. "We'll see another dimension to Adam that's more empathetic," teases Miller. "We're not interested in telling the story of a mustache-twirling villain."
Nor is anyone eager to hurry along the obvious sparks between Henry and Det. Jo Martinez (Alana De La Garza), his foxy but emotionally damaged colleague at the NYPD. "I'd like to see them get together...after about 100 episodes," says Gruffudd. "I think that's close to what Castle did." According to Miller, they'll both have to exorcise the romantic ghosts of their pasts before they're ready for serious hanky-panky: Jo is a young widow, while Henry still pines for his beloved former wife, Abigail (Mackenzie Mauzy). By season's end, Miller promises, "we'll shed light on what really happened to Abigail, and Henry will get to experience some degree of closure."
As for the reason Jo hasn't turned her investigative skills to the mystery of why Henry keeps stepping in front of bullets and moving cars–and surviving? "Alana has this great theory that it'll be revealed in Season 3 or 4 that Jo has been profiling him the entire time. He'll walk in and discover a room plastered with pictures of himself," says Gruffudd. "Wouldn't that be wonderful?"
In the meantime, he will continue his welcome grind portraying a guy who can't die in the city that never sleeps. "What a place to be exhausted and away from family!" he says. (Wife Alice Evans and their daughters, Ella, 5, and Elsie, 1, are back in Los Angeles.) "New York is such an amazing character in the show and in my life. When I'm at my lowest, I just tap into the energy here." Plus, you can't beat the local color. A few months back, a passerby with an accent straight out of GoodFellas stopped to announce that he hopes Forever "flops." Recalls Gruffudd, "I said, 'Now why would you hope it flops?' And the man told me, 'I didn't say that! That would be mean! I said I hope it flies!' It was just one of those perfect New York moments."
Forever, Tuesdays, 10/9c, ABC