12 Things We Learned From the 'Pretty Little Liars: Five Years Forward' Special
Last night's Pretty Little Liars: Five Years Forward special episode revealed a mind-blowing series of details about the second half of Season 6 in rapid succession. As the main cast sat around the Hastings' newly-renovated barn, executive producer I. Marlene King spoke to the cast about what we can expect next as the series resumes in the New Year and shifts five years into the future.
Here's what we learned from the special:
1. Radley Sanitarium gets an upgrade.
The creepfest that was Radley Sanitarium is now a swanky boutique hotel where the girls are seen hanging out and sipping on cocktails in the trailer.
2. Hanna's dreams come true.
Sorry, Haleb fans, but although Caleb (Tyler Blackburn) and Hanna (Ashley Benson) moved to New York post-prom (living in a "shoebox" apartment in Tribeca, no less), the couple didn't pan out. Caleb "continued his journey in the tech world," according to Blackburn, while Hanna made her fashion dreams come true at FIT. She became an intern for Zac Posen, went to Europe and met her current boss, Claudia Greco, "who's, like, the Anna Wintour of fashion," Benson says. In addition to meeting her supervisor, she also met her hunky new fiancé overseas.
3. Spencer has a new agenda.
Our favorite brainiac, Spencer (Troian Bellisario), went to Georgetown and is now working on Capital Hill as a lobbyist, to her mother's dismay. At the moment however, she's living in her parent's barn while helping Veronica Hastings (Lesley Fera) run for senator (with the slogan: "The clear, true voice"). As far as Spoby goes, "She and Toby Cavanaugh (Keegan Allen) really fell apart because he was staying in Rosewood with the police force," Bellisario says. So the couple that survived "A" couldn't survive long-distance? Yikes.
4. Toby is living out The Notebook.
Toby finally got his due. The Rosewood cop comes into a bit of inheritance money, thanks to the house that "A" blew up in the series' 100th episode last year. With his new cash flow, Toby buys 3 acres outside of Rosewood to start building his dream house. Of course, by accident (or fate), Officer Toby walks into a robbery, saving a woman named Yvonne Phillips "who ends up being a very important person in the story and in his life," said Allen.
5. Toby and Caleb are besties.
Allen says the two buds go fishing a ton and are "best best friends." So why do we seem him punching Caleb in the trailer? That's something to think about.
6. Emily embraces the So-Cal life.
Emily (Shay Mitchell) moves the farthest away, going to Pepperdine University in Malibu, California. But she quickly drops out when she learns of her father's death in the army. Now she's mixing drinks under the sun as a bartender. "I think Emily comes back with the biggest secret," King reveals. Other notable facts: Emily's been visiting ex-girlfriend Paige (Lindsey Shaw) at Stanford, according to an exclusive clip shown last night. And, does anyone else find it curious that her mom Pam Fields (Nia Peeples) wasn't around at all?
7. A new version of Radley will rise.
While the old Radley Sanitarium is busy checking in hotel guests, a new psychiatric hospital has risen up to take it's place. Welby State Psychiatric Hospital is where Charlotte (Vanessa Ray) ended up, and she's working with a familiar face, Dr. Anne Sullivan (Annabeth Gish). Curiously, Ray was nowhere to be seen during the special outside of the next episode's clips.
8. Alison starts keeping a new secret.
While we already know Ali (Sasha Pieterse) is working at Rosewood High as an English teacher with a penchant for Oscar Wilde, we didn't know she'd be dating Charlotte's doctor, Dr. Allens, and keeping the relationship under wraps.
9. Aria's trying to rewrite her story.
Originally, Aria (Lucy Hale) goes to Georgia and majors in photography, but she quickly transfers to Boston when she discovers a love of writing and changes her major. Now, she works for a publisher and is in a new relationship with someone named Liam who is also her coworker. Coincidentally, she and Ezra (Ian Harding) actually start working together as well. "Aria probably hides behind her work a little bit," Hale explains. "Hides behind her relationship. If you look, Aria's dated a lot of guys; she's never been by herself. I think that says something."
10. Ezra continues a slippery slope downward.
"Ezra has had an eventful five years," Harding says. No kidding. Our puppy-dog-eyed writer follows Nicole (Rebecca Breeds) down to South America to do Habitat For Humanity-type things, but the opportunity is taken away from him "quickly and violently," Harding says. "He falls down a really deep well, into a sea of alcohol."
11. Mona has ulterior motives.
Mona Vanderwaal (Janel Parrish) is making moves. She went to Duke for Political Science, and even hit Miami during spring break with Hanna, where they both crash a party at Matt Damon's house. Now, Mona's trying to figure out Charlotte's next move, even going as far as applying for a summer job at Welby to get close to her former tormentor. Her excuse? "I'm about to start a career in the public eye. I need to know her intentions," Mona said in one of the exclusive clips. Sure.
12. A new Big Bad appears.
Something will happen at the end of the first episode that keeps the Liars in Rosewood for the time being. "The girls begin to, again, receive messages," Bellisario says. "They know it's not from Charlotte, and this time it feels very different."
Pretty Little Liars returns on ABC Family (soon to become Freeform) on January 12.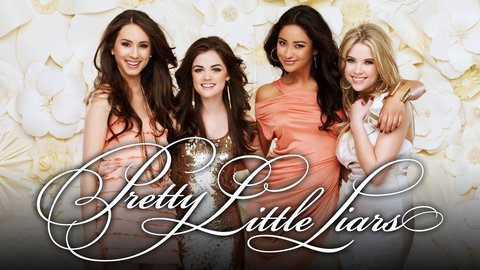 Powered by