'Underground's First Teaser Trailer Focuses on the Fight for Freedom (VIDEO)
After finding success with the 17th century witch trials in Salem and with the 20th century atomic age in Manhattan, WGN America is helming another original series set in the past. Today, the network released a teaser trailer for their newest show, Underground, which focuses on the 19th century events surrounding the Underground Railroad.
Debuting early next year, Underground focuses on a group of plantation slaves who work together to find freedom. These revolutionaries use their cunning and perseverance to attempt the greatest escape in history.
Some of the show's stars include Jurnee Smollett-Bell (True Blood), Christopher Meloni (Law & Order: SVU), Aldis Hodge (Leverage), Alano Miller (Jane the Virgin), Marc Blucas (Buffy the Vampire Slayer) and Jessica de Gouw (Arrow), plus Empire's Jussie Smollett as a guest star opposite his sister, Smollett-Bell. Two Academy Award winners also serve as executive producers: musician John Legend (Selma), who will be providing musical direction, and script writer Akiva Goldsman (A Beautiful Mind).
Watch a first-look teaser trailer below, which is illuminated by the haunting vocals and a statement of determination.
Underground debuts in early 2016.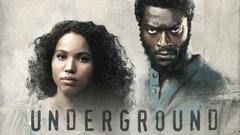 Powered by