Lifetime's 'The Watcher in the Woods': Melissa Joan Hart Gives the Vintage Disney Thriller a Modern Spin
Melissa Joan Hart and her lookalike mom Paula have been business partners since the younger Hart was a kid making a name for herself in tween hits like Clarissa Explains It All and Sabrina the Teenage Witch. So, when Melissa began eyeing film projects as she grew older, Paula knew which one to pursue.
Like most people her age, Melissa was obsessed with the 1980 thriller The Watcher in the Woods, Disney Studios' first foray into the horror genre. Marketed to a young-adult audience, the PG-rated spectacle told the tale of Mrs. Aylwood (played by Bette Davis), whose little daughter Karen vanished decades before under ominous circumstances. When teenage Jan (a post-Ice Castles Lynn-Holly Johnson) and her family rent Aylwood manor for the summer, she and her little sister Ellie (a way pre-Real Housewives of Beverly Hills Kyle Richards) become dangerously entangled in the mystery.
"This was a movie that my mom knew was near and dear to my heart, so she tried to get the rights," Hart recalls. "It took a very long time, and by the time we got them I was too old to play the part of Jan and too young to play the part of Mrs. Aylwood. So, I wanted to direct it." The result debuts this month on Lifetime.
With the original Watcher nearly four decades old—and today's young movie fans infinitely more horror-savvy—Hart and her screenwriter Scott Abbott (Queen of the Damned) opted to refresh the tale for a new generation, holding on to "three very special moments from the original movie," Hart says.
"I went back and watched it, just to make sure I didn't miss anything that was iconic. Those moments are there for the fans that loved it as children—but it's a very updated version. We've lost the sci-fi [element]. And I feel like the ending was always messy, so we cleared it up. We really made it our own."
Hart relished having Oscar winner Anjelica Huston as her Mrs. Aylwood. "Most of the time I was just thinking, 'She knows more than I do!'" Hart smiles. "Her father was a director. She's directed. Just knowing that it's Anjelica Huston, you let her be Anjelica Huston."
See Also
Ulrich plays Smart's ultra-religious captor, Brian David Mitchell
Hart found her Ellie in Brit newcomer Dixie Egerickx, devising a unique way to coax the youngster into letting loose in one of the film's most iconic scenes.
"That part is so delicate, because she has to be so spooky, but so innocent, too," Hart explains. "When her doll starts to talk to her and she screams out 'Nerak,' she has to deliver. Those are hard things to pull out [of a young actor], so I would clear the room and I would scream at her—'Nerak! Nerak!'—and have her scream right back at me. We would practice with a closed set, and then we'd bring in the crew and just let her scream her head off! She got it!"
The Watcher in the Woods, Oct. 21, 8/7c, Lifetime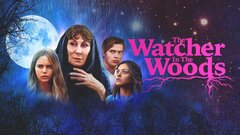 Powered by