'Girlfriends' Guide to Divorce' Gets Ready to 'Treat Yo Self!' With a 'Parks and Rec' Alum
Get ready to treat yo self! Retta, the comedian best known for seven seasons as the highly GIF-able, luxury-seeking civil servant Donna Meagle on NBC's Parks and Recreation, is coming to Girlfriends' Guide to Divorce. But don't expect her new alter ego, Barbara—the grumpy managing editor of a women's website called SheShe—to fall right into stilettoed step with the other gals on the sophomore dramedy about hot-to-trot forty-something L.A. singletons, led by freshly divorced author about town Abby (Lisa Edelstein, left, with Retta). Here, Retta offers a peek inside her life after Pawnee.
This season, Abby will blog about her romantic escapades for SheShe—much to Barbara's chagrin. Why so disapproving?
Barbara is a worn-down single mom who's been beat up by her own divorce. When Abby comes in all sunny—like, "Divorce is sexy!—Barbara thinks it's bulls–t.
Will her doom and gloom ever lift?
Abby's friends—Phoebe [Beau Garrett], Jo [Alanna Ubach] and Delia [Necar Zadegan]—help with that and bring a different kind of energy to Barbara's life. She'll eventually be able to see the light on the other side of the tunnel.
GGTD features some racy love scenes. Any chance you'll partake?
I'm scared to say it out loud, because then I'll have to see my ass on camera! But yes, Barbara has a bit of a love interest at the end of the season. Whether you'll see her in the sack, I don't know! I'm fearful of showing my bits.
Fans love P&R's Donna. Does it still feel like she's with you?
People at the grocery store call me Donna all the time, or they'll follow me around and then finally yell, "Treat yo self!" I'm always amazed when someone on Twitter asks me to come to their birthday party. I'm like, "I don't know you!"
Girlfriends' Guide to Divorce, Season premiere, Tuesday, Dec. 1, 10/9c, Bravo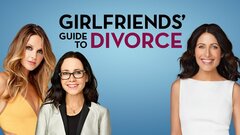 Powered by