'Empire's Top-of-the-Charts Rise Makes It the Power Show of the Moment
For TV Guide Magazine's first-ever Power Issue, the staff looked at the juggernauts dominating TV, from events to franchises to actors, producers, and other multihyphenates in show business. Here, we take a look at TV's latest Power Show. Plus: See why The Simpsons is the most powerful TV show of all time.
---
There's epic. Then there's Empire epic. Taraji P. Henson, Terrence Howard and Jussie Smollett—the three megawatt stars of the blockbuster Fox series—enter the show's bustling soundstage in Chicago and are soon surrounded by over 200 extras, each dressed to the tens, for a blowout concert that will air during the December 2 midseason finale. Executive producer Sanaa Hamri, directing this three-ring-circus of an episode, calls for action, and suddenly Serayah McNeill, who plays Rihanna-esque hip-hop star Tiana, is blazing through the crowd. She is accompanied by a bevy of bubble-butted boys on hoverboards as she performs a raucous, sex-charged number called "Do Somethin' Wit It." But this is just the evening's appetizer. Moments later, the waters part and in comes Alicia Keys.
What's at stake here? Everything. After all, it's Empire! This glittery affair, which has drawn the power people of the music industry, is being live-streamed to promote the American Sound Awards—the show's fictional mash-up of the Grammys and American Music Awards—that has both factions of the Lyon clan desperate for nominations.
"Just like with any of their family gatherings—whether it's a dinner, a party or a performance—the Lyons are going to find a way to take something really beautiful and f— it up," says Smollett, who plays middle son Jamal. "It's what they do best."
Howard's character, Lucious Lyon, the megalomaniacal overlord of Empire Entertainment, is obsessed with winning the ASA for Song of the Year. "It has taken on an outsize importance for him," says executive producer Ilene Chaiken. "It's about much more than record sales and the devotion of millions. It's a symbol of greatness for a man who is wont to say things like, 'I am more powerful than God.' Lucious wants that award more than life itself." Mostly because he's never been nominated for it.
"Lucious has won everything in life but that top prize, and that's a real sore point with him," Howard says. "He's not interested in Best R&B Song. That category, he says, 'was invented to placate black people.' He thinks Song of the Year is the only ASA with real prestige." And woe to anyone who gets in his way this year, including Jamal, who is also a likely contender in the category.
"This is the cutthroat truth about the music industry," says Hamri, who has directed widely acclaimed videos for Prince, Mariah Carey and Nicki Minaj. "Lucious, like a lot of people in the record business, is all about trumping everyone else. He's not looking at the bigger picture—what's best for Jamal, for his family, for Empire Entertainment. It's all about him. And it will get crazy."
RELATED: The Craziest Outfits Worn by Cookie and Other Empire Ladies (PHOTOS)
Meanwhile, Lucious's ex-wife, Cookie, played by Henson, needs some ASA love to help put her rival startup company, Lyon Dynasty, on the map, and she's praying that her son Hakeem (Bryshere Gray) gets a nod as Rapper of the Year. "It would mean so much to Cookie's label," Henson says. "But Lucious is such a bully. He'll probably find a way to fix the voting."
The situation has been hell on Hakeem. "Not only is it him and Cookie versus Lucious and Jamal—with Andre [the eldest Lyon son, played by Trai Byers] working both sides—but Hakeem is starting to realize he has mental problems," Gray says. "He's depressed. He sees that having a company is not what it's cooked up to be, and it's really messing with him. A while ago he was kidnapped. Now he's feeling emotionally kidnapped."
But let's get back to Alicia Keys. The Grammy-winning superstar is playing four-time ASA winner Skye Summers, who hits the stage with Jamal to knock out "Powerful," a Black Lives Matter über-ballad (cowritten by Smollett) with lyrics ripped from the headlines. It is gloriously performed, and the audience is ecstatic.
Then things go south. The host of the concert, radio personality Charlamagne Tha God, walks out, momentarily fawns over the duo and then rips into the biracial Skye, accusing her of playing up her blackness when it's professionally convenient. Skye is stunned, confused and devastated by the public humiliation. Clearly, this is going to be a nightmare on Black Twitter.
"This is an issue I've been desperate to explore," says Empire cocreator Lee Daniels. "I don't want to drop names, but I will. I have a lot of biracial friends—Mariah Carey, Lenny Kravitz and Halle Berry among them—who feel [as if they're] in a race of their own. For them, it's always a question of 'How do I identify? As black? As white?' And a lot of black people have a big problem with that. But who are we to judge how a person of mixed race should identify?" That message, Daniels adds, "is what Empire is all about. It doesn't f—ing matter what color you identify with or what sex you're sleeping with. We're here to break down barriers."
Smollett is doing just that during a break in filming, as he greets several African-American state legislators who have come to the set with their very excited families. The actor, who came out as gay in an interview with Ellen DeGeneres last March, later relays how he was blown away by the visitors. "One person told me, 'My son is 14 and gay, and he came out to me because of you,'" says Smollett. "Another said, 'My daughter just came out yesterday. She told me it was because of you.' And a third said, 'My brother came out to me while we were watching Empire.'"
RELATED: Empire's Star Power: 24 Celebrities Who've Had Guest Roles
Such encounters are common these days for the 32-year-old star. "This show is so much bigger than the ratings or the music or the fun factor," Smollett says. "We hold a mirror up to each viewer and say, 'Look at yourself. Which character are you most like?' And," he adds with a laugh, "if you're most like Lucious, you should probably check yourself, boo. You might wanna do some work."
Hey, let's not pass over those Nielsens so easily! Season 1 of Empire broke TV records we didn't know existed, debuting last January as the highest-rated freshman series in 10 years and boasting an episode average of 17.3 million viewers. Among broadcast series, it's No. 1 with adults 18–49 and No. 1 in all of television with African-American adults 18-49. Cooler still, it is the only series since the advent of the current ratings system to grow its viewership every single week in its first season. Based on tweets per episode, Empire is also the largest social-media draw among all series—broadcast and cable. Though ratings have leveled off in Season 2, the show is still a colossus, one with a profound effect on how pilots are now being cast.
"Everyone is looking for diversity thanks to us," says Henson, "but I hope they don't miss what's really going on here. The work on Empire is incredible. Being black is not the trick! My hope is that Hollywood can get deeper in its thinking and not just throw a bunch of black people on TV because they know it'll make money."
Her boss seconds that emotion. "The danger now is that a lot of shows will become cookie-cutter—pardon the pun—versions of Empire," says Daniels. "As a man of color, nothing makes me happier than to help change the way TV is made. But this isn't a 'black show.' It's a show about extremely relatable human beings. Many people in this business still don't get that."
Empire, Midseason finale, Wednesday, Dec. 2, 9/8c, Fox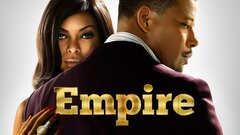 Empire
where to stream
Powered by