Ask Matt: Is 'Murder' Getting Away With Too Much? Plus, 'Outlander', 'American Crime 2.0', 'The Good Wife' and More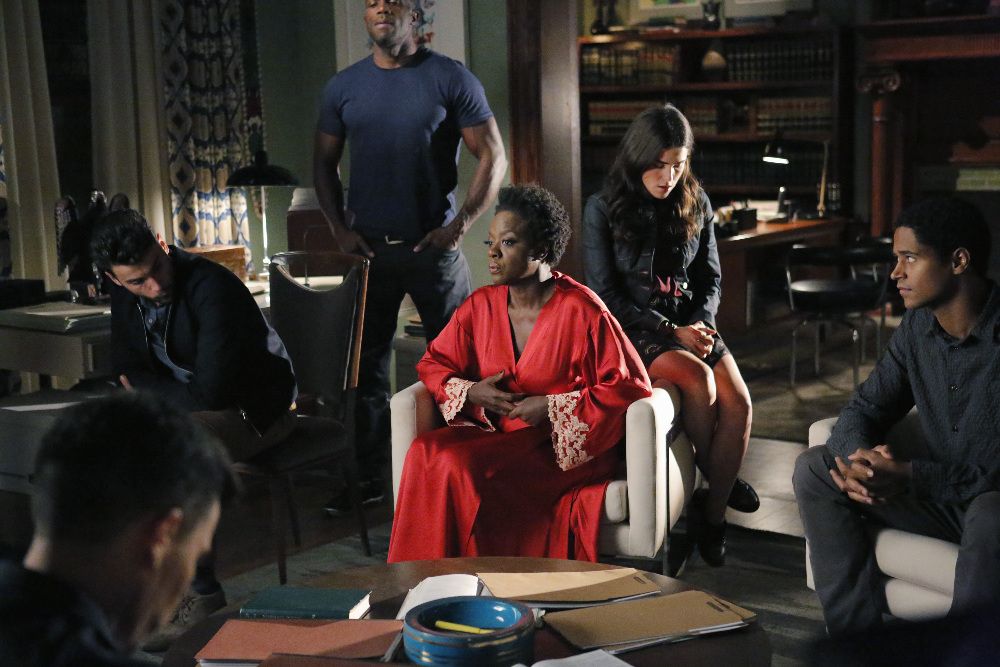 Welcome to the Q&A with TV critic (also known to some TV fans as their "TV therapist") Matt Roush, who'll address whatever you love, loathe, are confused or frustrated or thrilled by in today's vast TV landscape. One caution: This is a spoiler-free zone, so we won't be addressing upcoming storylines unless it's common knowledge. Please send your questions and comments to [email protected] (or use the new form at the end of the column) and follow me on Twitter.
Question: I am baffled by How to Get Away With Murder, since that entire crew commits murder. I love Viola Davis, but if I had that staff I would fire them all. Grey's Anatomy is still strong with the new cast, but Scandal needs to get Olivia out of the White House. It would never be allowed. He would be impeached. — Judy
Matt Roush: I'll admit, I have trouble remembering just who's on trial in Murder these days, given the convoluted storytelling approach and the fact that they seem to be covering up each other's mistakes and lies as much as those of their clients. It's as nonsensical a legal melodrama as I've ever seen (at least this side of latter-day David E. Kelley), but after last week's climactic montage of sexual couplings in which Billy Brown's abs seemed to be auditioning for their own Emmy category, it's pretty clear we're not meant to be tuning into this show for a tutorial on legal ethics.
On Grey's, I will say that Martin Henderson's arrival wipes away a lot of the current season's sins—he's the best thing to happen to that show in a while—but will beg to differ regarding Olivia as Fitz's mate on Scandal, which seems to me to be back on its game this season with the renewed focus on White House sexual shenanigans and the conflicts involving Cyrus, Mellie, Fitz and Olivia. While you're probably right none of this could ever happen in a real world—impeachment, by the way, has already been dealt with, eradicated in another wacky plot twist by letting Papa Pope out of prison—the only way to enjoy Scandal and the other Shonda Rhimes shows on Thursday is to let logic and reality be damned and filter everything though an Olivia Pope-sized goblet of wine.
---
Pining for the Scot and the Sassenach on Outlander
Question: Is there a season 2 opening date for Outlander yet? And will these wonderful actors (at all levels) ever get the recognition they deserve? Or is being on Starz a jinx for things like Emmys? – Dreaves
Matt Roush: No airdate yet. (The minute it's announced, all Outlander fan sites will explode, I'm sure.) Because Starz has scheduled the third season of its pirate drama Black Sails in late January, I'd think Outlander would follow that run sometime in the spring. As for the show's awards and Emmy chances, probably a long shot, not because of merit or even the network, but (unfairly, to be sure) because of the historical-romance genre it represents and the cluttered nature of today's drama field. (Generally speaking, every time I'm asked why name-the-show gets ignored at awards time, it's because of the glut of programming on cable and streaming platforms, especially when it comes to dramas.)
---
Will the New American Crime Make Us See Double?
Question: I am excited for the new season of American Crime, but a little concerned that having many of the same cast play different characters, it is going to distract from the story. Have you seen any of the episodes, and if so, what do you think? Also, is there any word on when Person of Interest will come back? — Kristi
Matt Roush: I haven't seen any of season 2 yet—not quite finished with 2015 TV yet, probably won't start tackling the winter midseason until after Thanksgiving (besides, still waiting for screeners)—but I'm not worried at all about this exceptional ensemble (including Felicity Huffman, Timothy Hutton, Elvis Nolasco and last season's Emmy winner Regina King) and their ability make us believe them as entirely new characters in a setting that couldn't be more different than last year's miniseries. Think of them as a first-class repertory company tackling new material. I'm actually excited by this notion. Feels less of a stunt than True Detective seeking movie stars each season to deliver its pretentious, overwritten dialogue.
---
Crossovers with Arrow, Flash—and Supergirl?
Question: I really loved the most recent episode 6 of Arrow Season 4. My question is now that Oliver and Felicity are in a good place with their relationship, how will the upcoming crossover with the Flash affect their happiness? —Vanessa
Matt Roush: This is as good a time as any to remind everyone that this isn't a spoiler column. Even if I knew this answer, I'd be unlikely to give anything away. Wouldn't you rather find out when/if it actually happens? I will say that our reporting on the Dec. 1-2 crossover in the new TV Guide Magazine me mentions nothing specifically about the story's impact on the Oliver-Felicity love story, and my own hope is that for at least this season they're allowed to stay together, if only because I like seeing Stephen Amell smile once in a while. (The real impetus of this crossover is to help set up 2016's Legends of Tomorrow spinoff.) In that same story, Arrow's executive producer Marc Guggenheim teases "one of the biggest seismic changes we have ever done" in the Arrow part of the crossover, so maybe there is cause for concern.
Question: The Flash and Arrow are intrinsically tied together to the point that they seem to be one show. Since Supergirl was created by the same production team that makes The Flash and Arrow, do they all exist in the same universe? Is there a future possibility of a cross-network crossover? — Brian
Matt Roush: For this, I consulted our in-house expert, Damian Holbrook, who does all of our terrific coverage on these shows. He reminds me that then-CBS Entertainment boss Nina Tassler said last summer she wasn't interested in the shows crossing over. But with her departing the job, this could potentially be on the table for sometime in the future, and CW's entertainment head Mark Pedowitz may be more favorably inclined if the DC shows' uber-boss Greg Berlanti can make it work, and I'd never doubt his ability. But given that Superman (let alone his cousin) has never yet been referenced in the world of Arrow or Flash (unless I missed it), I wouldn't expect this to happen anytime soon. As mentioned above, the CW's priority for now is to get Legends of Tomorrow up and running, and it's still early days for Supergirl. So stay tuned.
---
Where Have Our Old Favorites Gone?
Question: A group of us were talking about some old shows that left a lasting impression on us. We talked about Family, thirtysomething and Sisters among others. We noticed these shows were not in syndication. Why is that? What makes a show last for years in reruns and others never to be seen again? — Ellen
Matt Roush: Nowadays, with all of these streaming options, it's hard to imagine any show being out of circulation forever. (In fact, Hulu is currently offering thirtysomething.) But in terms of syndication, the shows that tend to have the longest shelf life are stand-alone procedurals (Law & Order and its offshoots being the most classic example) that can be watched in any order at any time, while serialized dramas, especially emotionally driven ones such as those listed here, don't repeat or travel as well. Still, given the passionate following these shows had in their day, I'd think streaming services would want to resurrect quality shows like this, at least for a time.
---
Taking Issue With The Good Wife
Question: For years, The Good Wife has been "appointment TV" for us. I have to admit to being disappointed with last year's season finale and the fact that Julianna Marguilies and Archie Panjabi were not even in the same room during that scene. Regardless, I had still been okay with the show until the Nov. 8 episode, which I felt hit a new low. I found the following to be bordering on the ridiculous: Peter running for president given the scandal in his background; keeping Howard at the old law firm given his behavior; bringing back the National Security Agency monitoring Alicia's behavior again and then having the Goats singing "I Will Always Love You." (I checked YouTube and that is a real video.) Anyway, I was wondering how you felt about the things they were doing this year, I assume to try and keep viewership up? — Faye D.
Matt Roush: Well, you can hardly blame any show, even a quality standard-bearer like The Good Wife, for wanting to keep its numbers up. That is every TV show's goal, and in the case of The Good Wife, that means shaking things up season to season, sometimes (but not always) for the better. The things I think have worked wonderfully this season: the battle between Ruth (Margo Martindale) and Eli (Alan Cumming), such great actors, and every time Eli opens his door to hit his desk, I laugh; Jeffrey Dean Morgan as Alicia's incredibly charismatic bad-boy investigator; the chaos in bond court, and the addition of Cush Jumbo as Lucca in Alicia's world. I even think the ageism storyline that pits Howard (always a ludicrous character) against Cary has been strong, and the reveal that Howard is now engaged to Jackie is just delicious. Yes, maybe ridiculous, but I love that The Good Wife doesn't take itself so seriously it can't have fun with these subplots. I also got a kick out of the surveillance brats coming back into the story. I really suggest lightening up to enjoy this show at its best. But I do agree that for Peter to seriously run for president, given his baggage (including a jail term, as a Chicago politician), strains credibility way too far. That seems to be a pretty significant miscalculation, much the least favorite part of the show right now (the Margo-Eli squabbling aside). I'm also not crazy about Alicia working against her old colleagues so often. I prefer them to be allies, not antagonists, and that's getting old.
---
What's With Gibbs and Abby on NCIS?
Question: Just started watching NCIS and wondering about the closeness between Gibbs and Abby. They seem so different. — Joanne
Matt Roush: That's the charm of their relationship, that her Goth punk style doesn't rattle straight-arrow Gibbs at all. I've always seen their relationship as more workplace father-daughter. He delights in Abby's eccentricities and trusts her so implicitly. One of the reasons NCIS has endured for so long is the bond that has formed between all of these characters, and Abby has always been a fan fave.
---
Come Back to "Regular" TV, Longmire!
Question: I would like to see Longmire return to regular TV. Any chance of that happening? I loved that show but can't watch it now. — No Name
Matt Roush: As long as Netflix is picking up the tab for Warner Bros. to continue producing Longmire, that's where its exclusive home is going to be for now, for past and future seasons. Welcome to the new world of TV shows not airing on traditional TV outlets. It's probably only going to get worse (see Star Trek's migration to CBS's All Access platform), so the challenge is to either adapt or risk being left out.
That's all for now, but we'll pick up the conversation again next week, so keep sharing your thoughts on new and returning series and other TV matters. I can't do this without your participation, so please send questions and comments about TV to [email protected] or shoot me a line on Twitter (@TVGMMattRoush). Or submit your question via the handy form below.