'Grey's Anatomy' Will Return to a Rom-Com Vibe for Season 12 (VIDEO)
https://player.waywire.com/?id=3TQQBQ2YZZYL4B7H
Dr. Meredith Grey (Ellen Pompeo) may have been MIA, but actresses Kelly McCreary (Dr. Maggie Pierce) and Caterina Scorsone (Dr. Amelia Shepherd) sat down to talk about Season 12 of Grey's Anatomy. Specifically, the two women were excited to share how their trio of characters will shape the next season as roommates.
RELATED: Check Out New and Returning Fall Shows
Of course, the biggest change that the three women will deal with is grief over the death of Derek (Patrick Dempsey).
However, don't expect the sesaon to be full of doom and gloom. Instead, "it's a reset for of us…and it's a tone shift, too," McCreary revealed. "It's going to feel a lot more like the early days, with the light, funny, rom-com vibe. And we'll leave the drama and the trauma to the patients."
Watch the video above to learn what current and former shows the ladies would like to guest star on ("Friday Light Nights," shared Scorsone), plus their experiences tweeting with fans.
More Grey's Anatomy
Quantico, premieres Sunday, Sept. 27, 10/9c, ABC
---
Questions? Ask Critic Matt Roush!
TV critic (and occasional TV therapist) Matt Roush answers viewer questions and concerns in his Ask Matt column each week. Wondering about plots, characters and twists on Grey's Anatomy? Submit your query to Matt via the form below: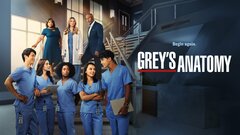 Powered by