'Arrow' EP Reveals 'Olicity' Plan for Season 4
When we last saw Arrow's Oliver Queen (Stephen Amell) and Felicity Smoak (Emily Bett Rickards), they were heading off into the sunset talking about being happy and sending Olicity fans running for dry shorts. Now, with Season 4's October 7 premiere just under a month away, we hit up executive producer Marc Guggenheim for the lowdown on how Starling City's supercouple has spent their summer.
"They have been all over the world traveling," says Guggenheim of the pair's five-month getaway. "They've had a grand old time going to different places and have since settled down in another city and [are] living under very different circumstances." So different, in fact, that our retired hero has actually embraced the joys of curling up on the couch, he adds. "Oliver even says in the premiere that he is enjoying making evening plans that don't involve him being shot at."
When asked how long Oliver and Felicity could last as a couple, Guggenheim jokes they'll make it "longer than the first episode, which would beat our record!" Actually, the producers plan to "explore the nature of their relationship as a couple and we have no desire to break them up before [that]…one of the fun parts of the season is the will they stay together or break up."
For more on Arrow, pick up TV Guide Magazine's Returning Favorites issue next week!
Arrow, Season premiere, Wednesday, Oct. 7, 8/7c, The CW
More Arrow Features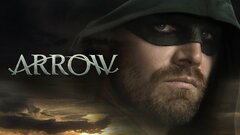 Arrow
where to stream
Powered by