Conan O'Brien Gets Silly 'and' Serious in Armenia (VIDEO)
Conan O'Brien's heading to Armenia, but for once, it won't be all about the laughs.
Tuesday night's episode of Conan will feature an adventure abroad with O'Brien's personal assistant of six years, Sona Movsesian, who is of Armenian descent. Because this is Conan, there's plenty of levity. The host with the most will test his language skills, get his shepherd on and even try some Armenian Viagara.
But in a touching moment, the pair also visits the Armenian Genocide Memorial Complex, where Movsesian breaks down in tears when reflecting on the villages that were wiped out.
Tune in Tuesday to see more of Conan and Sona's life-changing trip.
Conan, Tuesdays, 11/10c, TBS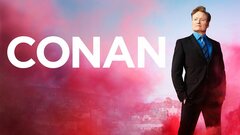 Conan
where to stream
Powered by