How 6 'Awkward' Seniors Will Prep for Graduation on the Midseason Finale
Now that prom is over, it's time for the Awkward seniors of Palos Hills High School to finally graduate. Monday's hour-long midseason finale sees Jenna and most of her gang don their graduation robes as they bid goodbye to the academic part of their high school careers and embark on grad night to close this chapter of their lives.
"These two episodes are the end of high school, so a lot happens," says executive producer Mike Chessler. "The characters are feeling both that sense of excitement to be leaving high school but that sense of nostalgia and sadness that it's over." Adds co-executive producer Chris Alberghini, "It may very well be the last time that we see Palos Hills High."
With (almost) all our Palos Hills favorites set to walk across that stage and collect their diplomas,we checked in with Chessler and Alberghini about how these soon-to-be former high schoolers are handling the big day.
Jenna Hamilton (Ashley Rickards)
Future Plans: Wyckoff College
Even though Jenna's resolved her two biggest problems as a high school senior—getting accepted into college and telling Matty that she loves him—there are still a few road bumps she will have to navigate in tonight's episode. "There seems to be a little bit of a hiccup in that Matty and Jenna have finally come together and everything's good, but there might be one last little problem," warns Alberghini. And if the day couldn't get any more emotional, Chessler says that Jenna's parents will be experiencing "intense empty nest syndrome" despite the impending birth of their second child. "It's a very mixed bag for them," says Chessler. "[Kevin and Lacey] are very proud of Jenna and very sad that she's going to be leaving them."
Matty McKibben (Beau Mirchoff)
Future Plans: UC Berkley
Even if Matty and Jenna manage to navigate any hiccups they run into, there's still the matter of their future as a couple. With both of them studying on two separate coasts, they will have to make a decision about their relationship. "Now they face the biggest obstacle of all, which is [that] they're no longer in high school, and what's it going to be like?" says Chessler. "You have conversations about, 'What are we going to do now?' That's something we're going to explore."
RELATED: Faking It Finale: Carter Covington on Amy and Karma's Relationship Hiatus
Tamara Kaplan (Jillian Rose Reed)
Future Plans: Southern Coast University (SCU)
Tamara might not have time to get too emotional about this last high school hurrah with her friends, seeing that she's dealing with the stress of planning the class gift, but according to Alberghini, the "realization that she's about to move out into the adult world" will sink in over the course of the hour. "Tamara is someone who's planned everything in her life to a T, especially her high school career," says Alberghini. "She's been pretty successful in high school and was doing very well, and now the end is near. This graduation is sort of the culmination of everything that she's worked so hard for in her life."
Jake Rosati (Brett Davern)
Future Plans: Gap Year
Much like Tamara, Jake will be grappling with putting his high school successes behind him and embracing the uncertainty of his future. "Jake was a popular guy in high school. He was the big fish in the small pond," says Chessler. "He's a little nervous about the next chapter, especially because he isn't going to college and there are a lot of big question marks in his future." One of the reasons the show chose to have Jake take a gap year is because the executive producers wanted to show that finances are a big part of the decision to attend college. "Not everybody can just blindly go to whatever college they want to," says Chessler. "Jake is not as wealthy as a lot of the Palos Hills people are. A big piece of him making the decision to take a year off is to help his mom out and save up some money so that, when he does go to college, he'll go to one that he really feel goods about. And, he'll feel he's financially in a good place to be responsible about it."
Sadie Saxton (Molly Tarlov)
Future Plans: Columbia University
While Sadie will be heading off to the college of her dreams, she'll have to figure out a way to attend the high school graduation ceremony first and deliver her valedictorian speech—which she will deal with in various ways. Chessler says it's "very, very hard" for Sadie to accept the fact that she won't be able to (after getting blamed for bringing alcohol to prom), as it's something she's worked for her entire high school career. "It's something that she's devastated by and is trying to figure out how to assimilate."
Lissa Miller (Greer Grammer)
Future Plans: Vanderbilt University
As the hour unfolds, Lissa's main focus will be on Sadie not being able to attend graduation. "Lissa feels terrible," says Chessler. "Not only does she think Sadie earned this and deserves this, [but] everybody knows that Sadie was not the one to blame for prom. [And] above all, Sadie's her best friend. A big part of graduation is just being there with close friends that you've been with all through the high school experience. For Lissa, that certainly is Sadie." As for Lissa's future, Alberghini and Chessler both confirmed that her college plans involve attending Vanderbilt University, something that the show will play off in the next half of the season.
The one-hour midseason finale of Awkward airs tonight at 9/8c on MTV.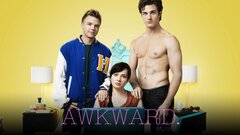 Awkward
where to stream
Powered by