'Awkward': What's Happening to 7 Friends (and Frenemies) This Year
What happened between Matty and Jenna during their year apart has finally been revealed—and things can't get any more Awkward as the pair moves forward.
With the duo, as well as their friends—and "frenemies"—back in Palos Hills for the summer, TV Insider caught up with EPs Mike Chessler and Chris Alberghini to preview what's coming up for everyone.
Jenna (Ashley Rickards)

Back home for the summer, Jenna managed to secure herself a fellowship at Buzzfeed IdeaBin in the hopes of kicking off her writing career. Unfortunately, Alberghini says her work environment is a little more reminiscent of her pre-college days than she'd like. "[Jenna] lands this dream job, [but] she starts to realize it's going to be a little more difficult than she thought it would be because she's meeting all new people and she's out of the protective cocoon that she was in at college. There are little cliques at work, and suddenly there are people who may not get her in the way that her college friends did. It's a bit like some high school dynamics all over again." As for whether Jenna might see some success with her writing, Chessler says it's going to be a "rocky road."
Luke (Evan Williams)

Of course, it wouldn't be Awkward if things didn't get a little complicated—at least romantically. And that's definitely the case for Luke and Jenna when she learns that not only is she working beside her former flame and current IdeaBin fellow Luke, but he is also partly responsible for her getting the fellowship in the first place. "Jenna experiences [her] attraction to Luke all over again," says Chessler about the couple's rekindled flame. "It's sort of like a workplace romance with a lot of complications because Luke is senior to her and she doesn't want it to seem like there's any favoritism going on. She wants to forge her own identity and she's very invested in being this new, independent person that she became in college. That complicates their romance a lot." Alberghini adds that the duo's second attempt at a relationship is different this time around. "Jenna sees herself as a more mature, independent adult. [And] we'll see that she feels a little bit more ready to be in this type of relationship."
RELATED: Awkward: Will Jenna and Matt Get Another Chance With Each Other?
Matty (Beau Mirchoff)
Matty's summer plans involve working at the country club with best bud Jake (Brett Davern), who hires him. Chessler says that Jake's job seniority will be a struggle for Matty. "It's that thing where someone who you're used to interacting with as a peer, and being very casual with, is all of a sudden telling you what to do. It's not easy. It definitely causes some conflict." But things won't be too tense at the club since Matty's current girlfriend Sully (Evanne Friedman) is also an employee. "The country club is a place we'll be staying at a fair amount of time. A fair amount of stuff is going to happen there," says Chessler.
Jake (Brett Davern)

Once Northwestern-bound Jake might just put his college ambitions to the side in the light of his new job, says Chessler. "Jake's original plan was to go to college, [but] we'll see him actually questioning whether or not he should actually go because of the financial concerns of what it would cost, and the reality of what he would get out of it, [along with] the fact that he's already working and on some level actually doing pretty well."
Tamara (Jillian Rose Red)

College is a time to make new friends—and that's certainly the case for Tamara who returns home with one very surprising friend: Sadie (Molly Tarlov). And while the pair's friendship thrived in the Big Apple, Chessler says it will be tested back home in Palos Hills. For one, there's Tamara's BFF Jenna to consider. "Tamara will navigate trying to be friends with both Jenna and Sadie," says Chessler, of the friendship triangle that's brewing in this half of the season."Likewise, Lissa will feel very left out by Sadie becoming so friendly with Tamara. There's going to be a lot of jockeying for position and reevaluating of how good a friend somebody really is." That's not the only issue on Tamara's mind though. Chessler adds that the soon-to-be college sophomore will also be facing some road bumps on the financial front. "Tamara needs to make some money, and we'll definitely see her trying to land some work. There's a strong financial imperative."
RELATED: How Awkward's Leads Became a Lesson in Girl Power
Sadie (Molly Tarlov)

"With Sergio and Sadie, we talked about [how] in real life, what often happens with high school couples [is that] you go to different parts of the country. [It's] a pretty common agreement to not tie each other down, but to try to see where we are and hopefully reconnect when [you're] both back in town," says Chessler about Sadie's discovery that Sergio has moved on and started dating someone else. "They had pretty different expectations of what that meant. [But] it's also clear that they both mean a lot to each other, and they do have a real connection. There will be some on-going developments with their relationship."
Lissa (Greer Grammar)

As seen in last week's episode, Lissa not only decided that college wasn't for her, but she promptly returned home where she began working as a nanny for Jenna's parents and baby sister. "She's getting to do all of the things that she fantasized about doing," says Alberghini. "She gets to take care of a very cute baby, that's not hers, and she's back with Jake. Things are going very, very well for her." However, Alberghini adds that while it seems like Lissa might not have career ambitions or future plans, that "will change as episodes progress."
Awkward airs Tuesdays at 10/9c on MTV.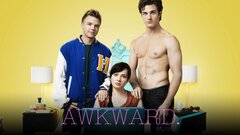 Awkward
where to stream
Powered by