Sorry, New York: 'I'll Have What Phil's Having's Phil Rosenthal Proclaims Los Angeles the Better Food City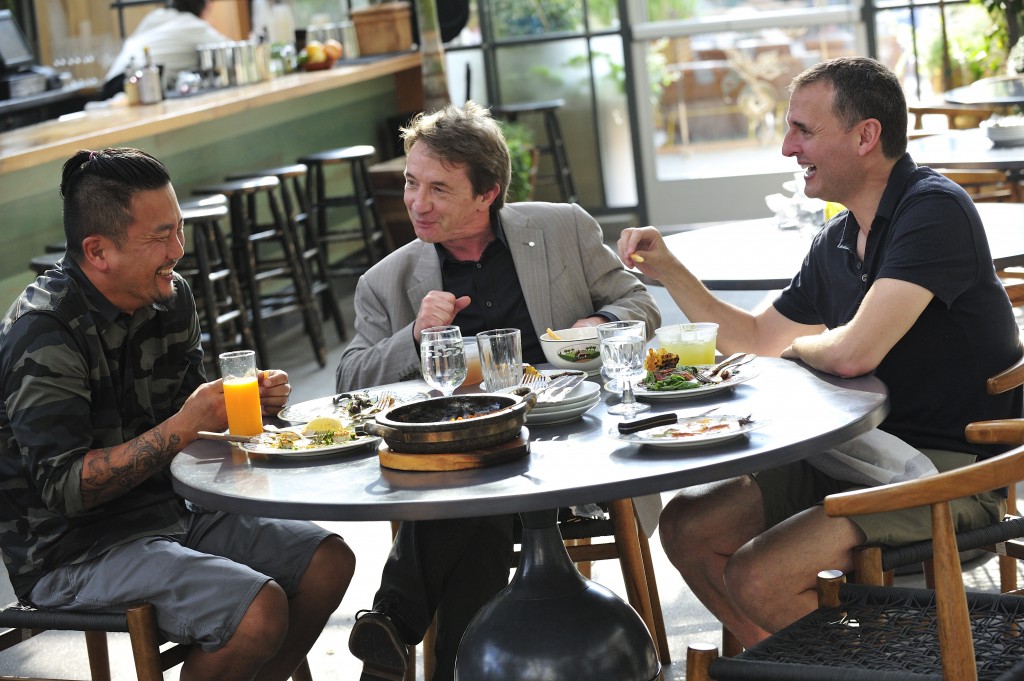 Everybody Loves Raymond creator Phil Rosenthal has a confession to make: In the battle between New York and Los Angeles, when it comes to food, L.A. is the winner.
Rosenthal, now the host of PBS' I'll Have What Phil's Having, is a New York native, so his change of allegiance carries some weight. After 25 years of living in L.A. and investing in the restaurant scene here, Rosenthal says it's not even a contest.
"I'm declaring Los Angeles the winner," Rosenthal says. "And I'm a snobby New Yorker. Right now L.A. is the best food city in America. I'm proud of it. And I can prove it."
Rosenthal tackles Los Angeles on Monday's episode of I'll Have What Phil's Having, which doubles as the show's Season 1 finale. In the episode, Rosenthal takes his Raymond star Ray Romano to the Farmers' Market for breakfast at Loteria; comedian Martin Short to chef Roy Choi's Commissary; and Mom star Allison Janney to downtown's historic Grand Central Market.
He also checks out a taco truck with The Nightly Show host Larry Wilmore, and takes legendary producer Norman Lear and actor Paul Reiser to Langer's deli for the best pastrami sandwich in the country.
"It's easier to live in L.A. for a guy like me," Rosenthal says.
We met up with Rosenthal at the famed Farmers' Market (at the corner of 3rd and Fairfax), and yes, we had what Phil was having: Fresh seafood from Tusquellas Fish & Oyster Bar. Freelancer (and occasional TV Insider contributor) Diane Gordon also joined us; an edited version of that conversation follows.
What I like about the L.A. episode is you tackle the New York vs. LA question, and the stereotypes New Yorkers have about L.A.
Rosenthal: The secret is simple, the cultural diversity. We have more Chinese outside of China than anyone in the world. And that's true for about 12 other nationalities. I'm not taking anything away from New York. But right now, because of the gigantic cultural landscape in this city, Los Angeles wins.
You could visit every province of China by visiting the different neighborhoods of the San Gabriel Valley. Everyone brings their cuisine with them. Thai, Armenian, Japanese; our sushi is better than anywhere. New York doesn't have the taco scene, the Mexican scene that we have. It's actually not much of a contest. New York has the 4-star French restaurants. We don't have them. But that's a very narrow definition of best food. Here we have everything. Literally everything.
And to hit them where it hurts, we have Langer's.
Rosenthal: Langer's is the best pastrami sandwich. Katz's has a great pastrami sandwich, except for the bread. The bread is half the sandwich. This is very important, the bread. And no one has bread like Langer's. Everyone always said you couldn't get good bread in LA. I beg to differ. With Nancy Silverton's La Brea Bakery and Langer's twice-cooked rye bread. There's a woman who bakes the baguettes for Petit Trois that's as good as any bread that I've had in the world. Incredible. I get excited about it because I get to live here. These places, these individual items, it makes living in a place better.
Any food trucks that you love?
Rosenthal: It's in the episode. One of my favorite things in the entire series is that I went on a tour of a neighborhood that I'd never been to before. In my own city, where I've lived for 25 years. We're stopping at trucks that you would never stop at, they're plain white trucks. I happen to get a personalized tour from an expert. But if I did a search on my phone for the best food truck in LA, that truck would come up. So you don't need me, you don't need an expert. The most cursory glance at your phone is available to you.
When did your opinion of L.A. change?
Rosenthal: The first thing that turned my mind around was getting employment. A good job makes any place better. Because 90% of your time is going to be at your job. The food scene when I got here 25 years ago, it was known for fast food and a couple of places, that's it. I saw it develop slowly over time. There wasn't a defining moment for me. But finding something like Langer's, it blew my mind. And then, these tacos, and other things here we don't have in New York. You start to have an appreciation. Before you know it, I love it and I'm not going back. I invest in restaurants here. I consider it like investing in the arts.
How did your restaurant investments begin?
Rosenthal: I love food, and I'm going to many restaurants. I go out more than most people: At least one, usually two meals a day. We met a chef at our kids' school who was opening a restaurant. I tasted the food and it was awesome. I realized that it was a wonderful thing to invest more and I started to meet other chefs.
That first investment was Jar, from chef Suzanne Tracht.
Rosenthal: Yes. I even bought Jar a year later because it was going to be sold to someone else and I didn't want it to go away. But there are a lot of headaches with ownership that I didn't count on. After I year of that, I realized I was not cut out to be an owner. This is more of a passion and I don't want it to become a job.
How many restaurants are you investing in right now?
Rosenthal: I'm in 20, 25 places. Every kind. I sold Jar to the [Tracht], and she's doing wonderful with it. Best pot roast I ever had in my life. I'm on to the next. Mozza was one of my investments. It's like having lots of kids.
When did you first discover the joy of food?
Rosenthal: It wasn't a priority in our house. We didn't have a lot of money, so we didn't have a lot of great food. It wasn't until I went to college and tasted good food. Garlic! I never had garlic! It was like the Wizard of Oz when it goes from black and white to color.
The stories of the writers' lunches at Raymond are legendary.
Rosenthal: We had the best craft services in town. It was a priority for me. I quickly learned that food is this universal bonding instrument. We meet and talk over meals. Food, family, friendship, travel, and laughter: these are the things that make life worthwhile for me. That's what the show is about. It's not a food show. The food is the vehicle. What I'm really trying to do, and what I've been doing my whole life, is to try and connect with people.
You get to travel around the world and eat. Not bad.
Rosenthal: It seems like a scam, doesn't it? But I realized it couldn't just be hedonistic fun for me. What is the higher purpose? Trying to get you off the couch to travel. There's a no more mind-expanding thing for us to do than travel. I think the world would be a better place if we all experienced just a little bit of someone else's world.
How healthy do you eat?
Rosenthal: Maybe the single worse thing you can eat is the French fry, and it's the one food I will never do without. If I see it, I must have it. People ask me how I keep the weight off. I tell them, you have to pick your spots. I work out in some capacity every day. However, as we get older, exercise does not make a dent in your weight. It's good for everything else. But unless you curb your appetite, it's no fair. 99% of your body weight is determined by what you eat. It stinks. We all know now what's good for us and what isn't. We know if you eat empty calories you're going to get fat. Pick your spots where you want to enjoy life, because that's important.
And even if you can't afford to travel, there are ways to do it in your backyard.
Rosenthal: I took Martin Short out and he had never had Korean food. How is that possible? I started him with some American dishes, and then Korean fried rice came up, and he said it was the best thing. You can travel in your own town. You can travel in this Farmers' Market. Have a cuisine you've never tried, and your mind gets blown a little bit. Before you know it, you like something you never thought you would. You try Peruvian food and before you know it, you're planning a trip. You never know. I'm not adventurous, I'm not Andrew Zimmern, I'm not Anthony Bourdain.
You ate a 1,000 year-old egg in an episode.
Rosenthal: My family likes to see me suffer. They thought it was hilarious. I'm not happy I ate that, but I'm happy I had the experience. I'm happy to try stuff. We're not children, we don't have to like everything we eat. Just try it! I have no interest in eating bugs or most things people think are weird. We all have our line of what we will or won't eat, but that line moves depending on the situation that we're in. I told my parents that I ate an ant, and they told me, "You could have had them here. They're in the house."
Is there any food you can't stand?
Rosenthal: I seem to like everything. There are a few flavors I'm not as crazy about in the world, like black licorice.
Where did the title I'll Have What Phil's Having come from?
Rosenthal: I didn't know what to call the show. My friend Lew told me he was at a restaurant the other day and always asks, "What would Phil order?" I thought that's funny, like "What Would Jesus Do?" I sent that title suggestion, along with others, to some friends.
So I'm sitting at a deli in New York with my brother. Nancy Silverton's daughter texts me, "Why don't you call it I'll Have What Phil's Having." Of course. I showed it to my brother and he said, "That's it!" Just then the waiter came over and told us we were at the famous table where Meg Ryan did her thing in When Harry Met Sally. We were at Katz's deli. Of all the delis and all the tables in that deli to be sitting at. And I just got that text! It was meant to be.
Has the show been picked up for a second season?
Rosenthal: It's almost undeniable now. The show is doing really well, breaking social media records. I'll be honest, I didn't even get such great reviews when Raymond was starting. Every single thing has been so nice, so positive. I'm just happy people liked it.
TV reboots are all the rage now. What about a Raymond revisit?
Rosenthal: No, I'm not doing it. When have you seen that work? Here's what I would do: The 20th anniversary of our premiere is coming up next September. Get the cast and writers, and we'll show clips. But nothing sadder than trying to re-create what was.
What are you up to next?
Rosenthal: I'm writing a play. And we're talking about the next TV thing. But I've been so laser-focused on I'll Have What Phil's Having. I will do a second season whether they film me or not. It's a big world; somebody's got to eat it.
Powered by