5 Revelations From the 'Scandal' Season 7 Premiere
The end is near for Olivia Pope (Kerry Washington) and friends, as Scandal returned to air for its final season premiere on Thursday. As per usual when it comes to Scandal, the cast of characters face some serious, over-the-top Washington, D.C. drama.
Last time we saw these gladiators, Quinn (Katie Lowes) had taken charge of OPA; Mellie Grant (Bellamy Young) was sworn in as president, while Cyrus (Jeff Perry) took on the role of vice president; Fitz (Tony Goldwyn) departed for Vermont; and Jake maintained his position as director of the NSA. Meanwhile, Olivia Pope is still wielding most, if not all, the power by running command of B613 and working as Mellie Grant's White House chief of staff.
The Scandal premiere picked up 100 days into Mellie's presidency, and a lot has clearly changed, but here are the 5 biggest revelations from Scandal's return.
1. Liv is a boss.
This is Oliva Pope's world and we're all just living in it. While Olivia is happy to let her friends and associates think that she is still the same girl in pursuit of the white hat, clearly the power has gone to her head, leading her to pull more strings than a puppeteer. At every turn she is ahead of the game, blackmailing, influencing votes as well as excavating hostages in foreign countries regardless of conflicting missions. From turning Jake away to her attitude adjustment moment with Mellie, Olivia is taking no prisoners when it comes to her plans for the future of her country.
The showdown with Mellie had to be her biggest moment of the episode, diving into a monologue so fierce and determined that viewers may have been driven to head nodding in tandem with Mellie.
2. The Vargas' legacy lives on.
We all knew that Frankie's wife Luna was a lost cause after Olivia and Jake forced her to take death-inducing pills last season, but we find out the spin on her death to the American people is that she suffered a heart attack. To honor both Frankie and Luna, Mellie's administration is pushing the "Vargas Bill," which awards all American students four free years of college education. As one of the major plot points in the episode, Olivia and Mellie depend on Cyrus to persuade those who are voting on the bill to pass it, but little did he know the task was a test of loyalty set up by Olivia.
3. Is Olivia over the love triangle?
With Fitz out of the picture, Olivia's only former flame who is still around is Jake Ballard–and by "former," we mean the guys she's still sleeping with in the first half hour of the premiere. When the former couple gets into a spat over the handling of a hostage situation at work, Olivia ends their physical relationship, telling Jake that she's the boss (see #1 above), and that she will no longer cross that ethical line.
Enter Curtis Pryce (Jay Hernandez), a political talk show host who is ready to butt heads on air over their views, but also romance Washington D.C.'s most powerful fixer. At the end of the episode, Olivia takes up Curtis' offer of a date, but from her commanding tone, her idea of the date is likely very different than what he had in mind.
4. OPA to QPA.
One of the constants throughout Scandal's run has been Olivia Pope & Associates, the firm Liv initially ran as one of D.C.'s most-esteemed fixers. Now run by Quinn, and served by the rest of the gang, the firm got a name change, ending the era of OPA and ushering in a new era of QPA–Quinn Perkins & Associates. However the once thriving business is now in desperate need for clients. And how does Olivia feel about this new legacy? Let's just say the tension between Liv and Quinn is anything but subtle.
5. Have white hats gone out of style?
After preaching time and time again that she wants to wear a white hat and stand in the sun, Olivia has completely lost sight of it. Not beyond blackmailing, and potential child murder, Olivia is losing her white hate ways. In many ways she has turned into a Rowan-esque (Joe Morton) character with her new, domineering and nefarious tactics. A true sign of her new like-father-like-daughter ways? When she ordered wine during her weekly dinner with pops. A subtle detail that speaks volumes to the type of darkness Olivia has descended into.
Scandal, Thursdays, 9/8c, ABC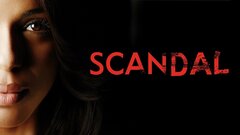 Powered by