Why the Team Behind Syfy's 'The Expanse' Is Confident About Its Upcoming Debut
On Thursday night Syfy screened the premiere of their new show The Expanse, followed by a panel of producers and actors The 10-part space mystery, premiering on December 14, is based on a series of books by James S. A. Corey (the pen name of Daniel Abraham and Ty Franck) set 200 years in the future after humans have colonized the solar system. The story revolves around a warming Cold War between Earth and Mars and the asteroid belt, a hard-boiled "belter" cop (Thomas Jane), an idealistic ship's officer (Steven Strait) a seasoned diplomat (Shohreh Aghdashloo) plus one of the richest girls (Florence Faivre) in the system, who's gone missing.
Here's some stuff we learned about The Expanse from the New York Comic Con panel and an earlier press roundtable.
1. Syfy has a lot of confidence in the series—a second season has already been written, and shooting should start in the near future.
2. The show proudly calls itself a space opera. "We have lots of future tech , says executive producer Mark Fegus, "but we think people are more interesting than the tech. The character's don't talk about how cool it is any more than we do when we get into a car." To Strait, "it's a human story, a huge adventure about people who get involved in a conspiracy."
3. The books' authors are 100 percent behind the adaptation. That may be because they're actually in the writers room along with the producer s and writing staff. "The show has the same soul as the books," promises executive producer Hawk Ostby.
4. The production has the largest studio in North America. 80,000 square feet offers plenty of room for space ships and an asteroid city called Ceres, says Strait.
5. Practical effects are back! They use some blue and green screen but prefer to build things. "It's better for actors to have a set that's real," says Ostby. And actually experience some zero gravity for themselves. (Just wait for the weightless sex scene in the pilot.)
6. "There's a noir feel to the show," says Jane. "It's gritty and dark." His morally ambiguous cop character is "future noir," says the actor who lost a lot of weight to play a character born and raised in a low gravity atmosphere.. "I'm really a fan of the 30's and 40's detectives." Or you mistake him for a hipster. Check out his omnipresent hat.
7. Get ready for a new fictional sci fi/fantasy language. It's a Creole tongue called Belter used, of course, by the unfortunates in the asteroid belt.
More News From Comic Con: Sneak peeks, panel reveals and what's ahead on your favorite shows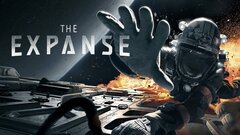 Powered by