AMC Renews 'Halt and Catch Fire' For Season 3
AMC will give viewers another season to halt and catch Halt and Catch Fire.
The network is set to announce Thursday that it has ordered a third season of the drama, which earned raves from critics for its season two reinvention.
As part of the renewal, co-creators and writers Christopher Cantwell and Christopher C. Rogers have been promoted to showrunners for the 10-episode third season, which returns to AMC next summer. (Previous showrunner Jonathan Lisco has exited.) The show will premiere simultaneously worldwide on AMC's international channels.
Season two shifted focus from building a personal computer to online gaming and the early days of the Internet; the show will now follow the characters as they move to Silicon Valley.
RELATED: How Real Is Halt & Catch Fire's Take on 1980s Computer Tech?
"It's quite clearly a good thing that this series airs on a network like AMC, which gave it the time and the second chance to be nurtured into a more satisfying show," our critic Matt Roush wrote this summer.
Halt has struggled to find an audience; its Season 2 finale attracted 887,000 in live+3 ratings (which includes three days of DVR and VOD usage) after initially pulling just 485,000 viewers. But critical acclaim, and the fact that the show is produced inhouse by AMC Studios, helped fuel the renewal.
"We love what the creative team and cast have been able to deliver on Halt and Catch Fire' and are particularly grateful to the critics and fans who supported the show throughout the second season and have been pulling for its renewal," says Joel Stillerman, president of original programming and development for AMC and SundanceTV. "We're so thankful for the talent and leadership of Jonathan Lisco over these first two seasons and glad that we are able to continue this story with co-creators and showrunners Chris Cantwell and Chris Rogers at the helm. In a world of TV series filled with scary, mythical creatures like zombies and dragons, we're thrilled to be able to follow these characters to Silicon Valley and finally bring unicorns to television."
Cantwell and Rogers executive produce Halt along with Mark Johnson and Melissa Bernstein. Lee Pace, Scoot McNairy, Kerry Bishé  and Mackenzie Davis star.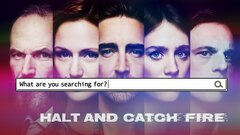 Powered by