The Kardashian-Jenners Remake Season 1 'KUWTK' Intro for 10th Anniversary
It has been ten years since the Kardashian-Jenner crew first allowed TV viewers an inside and personal look inside their family life, relationships, and careers on their hit reality show Keeping Up With the Kardashians. In that time, Kris, Kim, Kourtney, Khloé, Kylie and Kendall have built a multi-million dollar empire with reach in areas such as tech, fashion, beauty, fitness, and health.
Admit it, you hate to love them, but their influence in undeniable.
See Also
David Bianculli, historian and critic, on a decade with TV's most (in)famous family
To celebrate a decade on E!, the sisters Kardashian-Jenner and momager Kris recreated the Season 1 intro of the series ahead of their tenth anniversary sit-down with Keeping Up With the Kardashians executive producer Ryan Seacrest. Missing from the clip are brother Rob and Caitlyn Jenner (Bruce Jenner in Season 1 of the series), who have had diminished roles on the show for a few seasons.
Check out the 90-second clip below:
Here's the original intro:
Keeping Up With the Kardashians 10 Year Anniversary Special, Sunday, Sept. 24, 9/8c, E!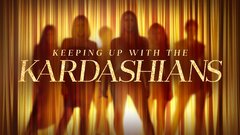 Powered by