'Midnight, Texas' Season 1 Finale: Good Sex, a Bad Demon and a Possibly Changed Manfred
[Spoiler Alert: Do not read ahead unless you've watched "The Virgin Sacrifice," Monday's Season 1 finale of Midnight, Texas. Major plot points and spoilers discussed ahead.]
As NBC's summer series Midnight, Texas, ended its first season, the premise that the small town was a safe haven for unusual folk both human and supernatural came to a hellish halt. Literally. It turns out that Midnight was built over a veil that separated the burg from the Underworld. And the barrier was fraying.
A big bad demon named Colconnar came over, intent on deflowering the gentle virgin witch Fiji (Parisa Fitz-Henley), which would give him her great power. (She was hoping to kill the monster while having sex, which is what she did—accidentally—to her first boyfriend! Happily for Fiji, instead, she had safe-sex with her true love Bobo, played by Dylan Bruce.) Fortunately, town psychic Manfred (Francois Arnaud) managed to banish the angry demon back to hell.
We asked executive producer Monica Owusu-Breen, who had adapted the mystery trilogy written by Charlaine Harris (True Blood), about the happy/sad and ominous season finale, and what could happen if the show is renewed.
See Also
The Sookie Stackhouse novels author gives her take on adapting her popular creature-laden series
Manfred temporarily saved the town, but at what cost to him? He ingested a batch of evil spirits to gain their power. They're gone from him, but last we saw, he had demonish black blood trickling from his ear!
Monica Owusu-Breen: What Manfred did was amazingly sacrificial. Manfred accepted his destiny but he also relied on a darkness to do it, which will linger in him. What does it mean to align yourself with evil to do good? How will it change him? That's a really good launching pad for Season 2.
After the victory, every romantic couple seemed to get happily together, and Olivia the assassin (Arielle Kebbel) married Lem the vampire (Peter Mensah). Where's that going? Will she let him turn her so they can live forever together?
She may want to get turned someday, but she has her own journey to go on. She has a past of abject horror and abuse, and though Lem can leech her pain away for a while, it doesn't stop it. If we're lucky enough to get a second season, there's lot to explore with [the theme of] what does it mean to be married when one character has so much pain and unresolved history?
It seems that we may get to meet the folks who caused Olivia such pain. There was a shocking reveal in the episode when Madonna (Kellee Stewart), the friendly diner manager, turned out to be working with Olivia's hated tycoon father. What was that about?
Everybody in Midnight has secrets, and Madonna has her own dark back story. There's an Olivia/ Madonna story that's begging to be told.
See Also
The NBC mystery is the latest from 'True Blood' author Charlaine Harris
Could Olivia's bad dad have something to do with that corporation that drove ostentatiously into Midnight, having bought the old hotel in town?
(Laughs) That's a possibility. Her father wants a relationship with the daughter he neglected, and a man with that much power won't let her just disappear. Her stepmom who pimped her out for drug money, is also out there!
What's up for that hotel? It seems to be haunted, of course.
It is! I'm excited to bring that to life, because like everything in Midnight, it's not exactly what you think it's going to be. It's a little weirder and brings a new group of people to town who end up being surprisingly funny and peculiar.
Everybody's peculiar in that town! So what do you have planned for lovebirds Bobo and Fiji?
What I love about Charlaine's books that is that she writes stories that are truly romantic, and I really like romance despite my love for horror and gruesomeness. I want to honor that these couples' love stories are deep. For instance, Bobo and Fiji have suffered so much they deserve to not immediately break up. But Bobo has a neo-Nazi family out there, and there's violence in that man we haven't explored much. He can be pretty dark!
Is Manfred's chatty dead grandma Xylda (Joanne Camp) really gone to her eternal rest and not hanging around her grandson anymore?
I'm looking forward to exploring ways that the dead can be in our lives, but Xylda won't be tethered to Manfred anymore. We haven't seen the last of her, because we've only seen the beginning in flashbacks and end of their journey together. They had a whole life between them.
How close was the finale to the conclusion of Harris' first Midnight book?
In the book, Fiji and Bobo consummating their relationship was enough to end Colcannar. The book was more of an ensemble, but Manfred is our way into the series, so we added that Manfred vanquished Colcannar. I told the writing room whatever changes we made, however, we had to keep the book's virgin-witch storyline.
Who are the villains we can expect to see in Season 2?
In Book Two, most of the evil is human, including some new adversaries for Manfred. We'll definitely have to introduce some supernatural entity into that scenario.
You've done other supernatural shows, including Charmed, Fringe and Marvel's Agents of S.H.I.E.L.D. What about Midnight, Texas appealed to you?
A lot of the show is dealing with the deaths of my mom, mother-in-law and my dog in one month. I asked my agent to find me a script, because I needed to take my mind off stuff, and he sent me Midnight, Texas. My mother-in-law was a psychic, and my mother lived in a tiny town in the middle of nowhere, so I think the signs pointed to doing this show. It didn't exactly take my mind off my family, but at the same time, they were my Xylda on the project.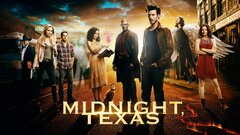 Powered by