Gabriel Macht on THAT 'Suits' Midseason Finale Moment: 'I'm Game For It!'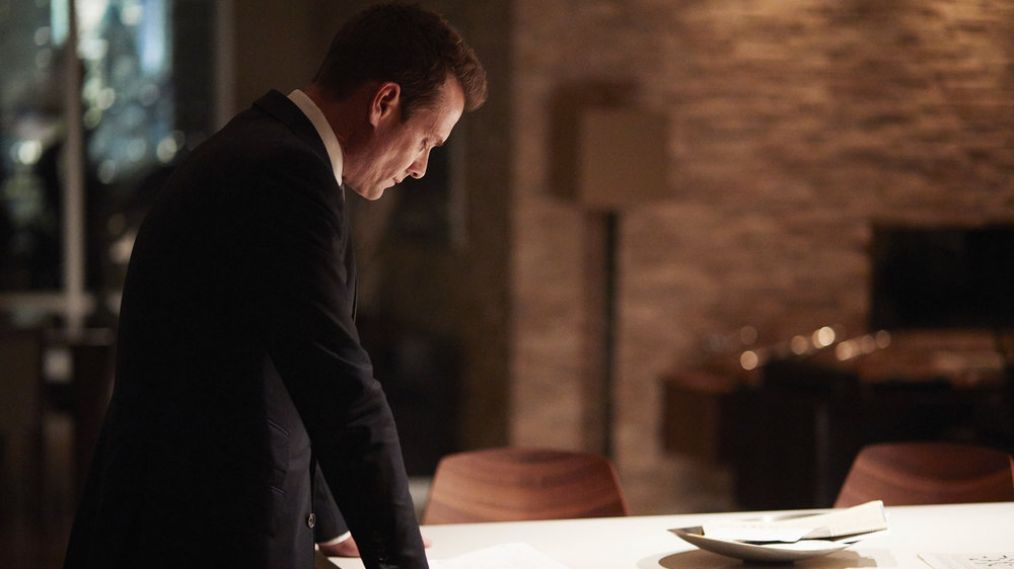 Spoiler Alert: This interview includes spoilers from "Donna," the Suits Season 7 midseason finale. So if you have not watched yet, look away!
Or, read on and be delighted by Gabriel Macht's take on how his Harvey Spector has finally dealt with his mentor Jessica Pearson (Gina Torres) leaving the firm for good, and what he took away from the pivotal final scene between Harvey and his secretary-turned-COO Donna Paulsen (Sarah Rafferty).
This is a big deal, this last episode. The show has always been about Mike (Patrick J. Adams) growing up and becoming a real lawyer, but I feel like the last year and a half has really been about the emotional evolution of Harvey Specter.
Gabriel Macht: I think there's a lot to say about that. Yeah, sure. I think this season has been largely about Jessica moving away and Harvey stepping up, becoming a true grown-up and being responsible for an entire crew of people. He's got his name on the wall—of course, he's had it for a couple of years—but now he wants to really step up and make the right decisions along the way. In some ways, he's also become paternal and is very responsible. I like that he's tried to also have a personal life, and he's gotten past other mother issues.
It's definitely like he's developing these portions of his life that really kind of suffered because of his ambition and his powerful position. I've started to notice in the office, he's shifted from going to protecting his interests to protecting the firm more because now that is his interest.
Yeah, for sure. He's grown up as far as his management. For sure. I think that's been sort of been influenced by Jessica when we've had Gina back here and there. I think he's also just becoming more mature. He's growing. He's becoming a leader in a way that he hasn't done before. He was extremely ambitious, overconfident. A bunch of bluster. In many ways, this has grounded him, softened him and made him a true leader.
Speaking of Jessica, there was a real heartache in seeing Harvey come to terms with the fact that this woman, this steady presence in his life, is not there anymore. The scene you guys shared in this finale, where he acknowledges that her name needs to come down off the wall, was really bittersweet.
It was a hard scene because she gave him this opportunity originally. She paid for his law school and brought him up all the way from the mail room. So to then have to make this decision? On top of that, on the day when we were shooting this scene, there's a tin drum band that plays in the studio next to us and the entire scene, it was playing in the background. [Laughs] It was impossible. We had to wait and hold over and over. Hopefully in the bloopers you'll see. But we spent two hours making that scene because of the sound!
Now…the Donna stuff.
What happened with Donna? [Laughs]
Nothing other than the biggest moment for fans so far! In past seasons, she usually stuffs down her feelings or gives a tiny hint, like grabbing your hand. This time, it is a full-on Love, Actually moment.
Right. What did you think? Were you happy that it happened?
I'm happy that she did it. And your reaction to it…it kind of felt like he was waiting for her to do that.
Really? Like he wanted that?
Oh yeah. And I feel like, because in their dynamic, she needed to kind of show him that she was all in because that's his usual speed.
Whoa, whoa, whoa. You're saying that if Donna said to him "Listen, I need to be with you. You're f***ing crazy to be with this other woman. We're going to do this," that Harvey would would say, "Yeah. Let's do it. 100 percent?"
Yes. Harvey loves the big swings. And now that she's the COO and can go toe-to-toe with him on that professional level, they're matched now.
Okay. I raise a glass to the power of perception. I'm game for it! I'll tell you, I think that they took a risk with this, to put this into the midseason finale. I think Sarah and I, as actors, gave our writers and producers options on how to play this. Some were definitely into it. Some were like, "What the f*** is going on? What are you doing?"
Some were totally neutral. I would beg to possibly disagree with you that Harvey was 100-percent game after all of that moment. But that doesn't mean that I'm right. Because honestly, it's really up to the audience as far as that moment is concerned. That, I think, was pretty intense, because you now have another five months [or so] to figure it out and keep you on the edge of your seat. That was well done.
What did you think when you read the scene?
I actually thought, and what I tried to give onscreen, was the neutral point. Like, Harvey didn't know what the f*** just happened. That's what I thought, and it's going to take a minute to figure out where he stands on it.
I just really want to see what Darvey could be.
You do? I think Paula's great for him.
She's lovely. She's been very helpful.
She's been very helpful. I think she grounds him.
Of course, there is the questionable ethics of her dating a former client. But this is not a group that really wades in the deep end of ethics.
No. At all! [Laughs]
RELATED: Subscribe To TV Insider's Suits Newsletter
Now, finally, have you cleared with [show creator] Aaron Korsh and the writers if there's anyone else left from Harvey's past to whom he owes a favor? Because it's never like he owes a gambling debt or an IOU. It's always some kind of huge, career-threatening situation like we saw with his old buddy Alex (Dulé Hill).
[Laughs] I really don't know. Look, every season he's got someone coming after him and somebody he owes a favor to. That's how it works, right? What I loved was that I thought they were going to be rivals, and then I thought it was interesting that they played it like they were really friends and he did look after him. Harvey did own up to his word. He did try and make it right.
See? Harvey is a good manager!
Yeah. We'll see if he f***s it up next year, right? [Laughs]
Suits Season 7 will continue in early 2018 on USA Network.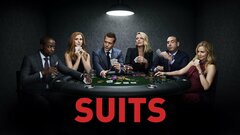 Suits
where to stream
Powered by