What's Worth Watching: 'I'll Have What Phil's Having' on PBS for Monday, September 28
I'll Have What Phil's Having, "Tokyo," Monday, Sept. 28, 10/9c, PBS (check local listings at pbs.org)
You may not recognize comedy writer/TV producer Phil Rosenthal, but his sharp sense of humor infused CBS's long-running hit Everybody Loves Raymond—the fruit-of-the-month gag in the pilot episode came from his own life—and he's great company in the culinary travelogue I'll Have What Phil's Having. Picture a more neurotic version of Anthony Bourdain, and that's Rosenthal, greeting each new taste and sensation with wide-eyed anxiety, enthusiasm and mirthful shtick.
Mocking his mom's cooking in the show's opening, Rosenthal recalls, "There were things I never tasted growing up—like food with any flavor." He's making up for lost time as he takes a deep dive into foodie Ground Zeros including (in the premiere) Tokyo, sampling exotic local specialties on the high and low ends of the spectrum. When he's treated to a gourmet meal at exclusive Narisawa, we're as fascinated as Phil is when he hears birds chirping from the elaborate spread with which he's presented, and it turns out there's a speaker embedded that's broadcasting a live feed from the forest. "I have to die now," Rosenthal gushes. (I'd have liked to know just how much a meal there costs, though.)
And then there are occasions when Rosenthal fears he might actually die, as when he bites into the bones of an eel skull during a barbecue feast: "They crunch, but not in a pleasant way," he cringes. He finds new extremes in the world of sushi, where the raw shrimp is so fresh it's still moving ("This is now a horror movie"), and with spicy ramen, where an expert tells Phil he has "one of the best slurps I've ever seen." In the satisfying finale to his Tokyo adventure, he enjoys a home-cooked meal of pond loach (look it up) and reciprocates by introducing his guests to the wonders of a chocolate egg cream. In I'll Have What Phil's Having, food is a universal language. I'll drink to that.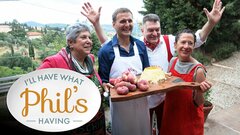 Powered by