'Empire's Taraji P. Henson Shares Why Cookie Is Living the Dream (VIDEO)
https://player.waywire.com/?id=VHXR0Q1BC5J9T7BZ
There's no doubt that Emmy-nominated Taraji P. Henson (for her role in Empire) is one talented and tough Cookie.
The actress took some time to share what's coming up for her character on Empire's second season. "She's out now, she's free, she's living the life she dreamed about for 17 years," revealed Henson. "And you'll see her coming into her own. You'll see her live her life in fashion."
RELATED: Empire Turns Up the Volume on Season 2 With More Drama
Although the show is about the music industry, viewers have yet to hear Cookie belt out her own song. "I think that would be incredible, to know that Cookie was really the talent. But like women do, we step aside for our man," Henson said with some snap and sass.
Watch the video above to hear the lovely Henson share why it's "bittersweet" that she's called Cookie now, who Cookie's upcoming romantic interest might be and which celeb she was starstruck to meet at the Hollywood Bowl.
RELATED: Visit Our Fall Preview Page to Check Out New and Returning Shows
Empire, returns Wednesday, Sept 23, 9/8c, FOX
---
Questions? Ask Critic Matt Roush!
TV critic (and occasional TV therapist) Matt Roush answers viewer questions and concerns in his Ask Matt column each week. Wondering about plots, characters and twists on Empire? Submit your query to Matt via the form below: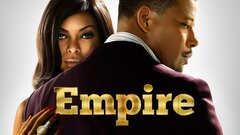 Empire
where to stream
Powered by