Elisabeth Moss on 'Top of the Lake: China Girl,' Avoiding Boredom in Her Roles and More
When Jane Campion debuted the first Top of the Lake installment in 2013, TV critics and fans of the chewy, atmospheric drama were mesmerized by the limited series' singular characters, gut-punch (but elegant) storytelling and evocative cinematography — all of which landed the outing multiple Emmy nominations. Her newest installment — Top of the Lake: China Girl airing Sept. 10-12 at 9/8c on SundanceTV — is more than worth the wait.
Elisabeth Moss returns as Detective Robin Griffin, a mid-thirties New Zealander who uses her knack for police work to repress a horrific past that still colors her shambles of a personal life. China Girl picks up Griffin's tale four years after she was embroiled in Season 1's messed-up Mitcham clan (and yes, we do learn what happened to some surviving players).
Returning to Sydney in search of her surrendered daughter and perhaps a fresh start, Griffin lands the case of another pregnant young girl — this one a young Asian prostitute gruesomely killed and tossed into the sea — and learns that "civilization" is not so civilized after all.
We sat down with Moss to talk about returning to this complex character, meeting up with Games of Thrones' Gwendoline Christie and more.
Can you talk about getting to, not just return to your character Robin and to Jane's amazing storytelling, but also to evolve this and to give people who loved the original something new to chew on?
Elisabeth Moss: It's not very often that you play a character and then get to return to it like this and play it again, you know, when it's not a series where you know or hope you might be going back to play it again. I loved playing her the first time. She's so different from me in a lot of ways so it's quite a challenge and departure for me. It was really, really cool to go back and do it again. I loved it. I love her. I think she's so interesting.
You told Jane you wanted things to get tougher for Robin. Can you talk about why you wanted that?
Well, why do it again if not? You know? We did it the first time, why go back and do it again? It's also true of Handmaid's Tale, the second season. I'm asking the same thing of Bruce and his writers right now. They know that under the threat of death to make it more challenging for me.
Yeah, I think I don't want to just do the same thing over and over. It's boring, and I get bored easily, so I don't want to do the same thing over and over. I want to just, I want to try new things. I want to challenge myself. I want to try to be a better actor. You know, I don't want to just be like, "I can do that." You know?
It looks like we've finally got some levity with Miranda (Game of Thrones' Gwendoline Christie, pitch-perfect) — a good-natured, Amazonian cop who is the only other woman on the force. Can you talk about that relationship because there's such a foil for each other? She's so open and such a giver and such a pleaser.
They're so different, right? That's exactly right. They're, oh my God, they're just like everything. They're just, they're total opposites of each other, or so they think. I think they're going to discover that they're deadly wrong about that, but they are.
They think they're opposites of each other, and it was such a great foil for Robin because she's trying to be so closed off and she's trying to not draw attention to herself and she's trying to not, you know, she doesn't want a partner and she certainly doesn't want a friend and then here comes Miranda just pushing all of the wrong buttons or all the right ones. You know?
It's exactly the challenge that Robin needs, and I wish I could talk more about their relationship for the rest of the show because it's my favorite relationship on the show. It's my favorite storyline of the season. … For the first two weeks of filming in New Zealand … I didn't have any female foils, any sparring partners, so it was wonderful to have that on this. … It's almost a two-hander in a lot of ways this season and, for me, as an actor that was so fun — and off-set — I had a friend. Jane, I remember, was like, "Look at you. You have a friend."
Top of the Lake: China Girl, Sept. 10-12, 9/8c, SundanceTV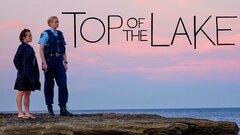 Powered by