'The Bastard Executioner': Battling for a Normal Life in 14th Century Wales
The Bastard Executioner's Wilkin Brattle (Lee Jones) doesn't actually begin the series as the titular slaughterman. He's an erstwhile knight who fled a disastrous battle for the Welsh barley fields of (fictional) Ventrishire, where he's adopted the guise of a simple farmer and married a local girl. Following him like a mystical, silver-haired crow is mysterious medicine woman Annora of the Alders (Katey Sagal), who tends to the villagers with her bodyguard/lover the Dark Mute (played by show creator Kurt Sutter) in tow. Life is good, for a while.
This is the early 14th century, not long after Wales had its keister thoroughly kicked by England's King Edward I, the fearsome Longshanks of legend. Now his son Edward II sits on the throne, relying on his English barons to keep the increasingly rebellious Welsh from rising up.
RELATED: More Editors' Choice Picks for Promising Shows | Visit Our Fall Preview Page
In Ventrishire, that task falls to Lord Ventris (Brían F. O'Byrne) and his chamberlain, Milus Corbett (Stephen Moyer). Wilkin is not part of the Welsh resistance, but he is a little bit of an outlaw at the outset, part of a band of villagers who rob Ventris's tax collector. Ventris and Corbett's wrath consumes the entire village—and Wilkin's subsequent quest for revenge on behalf of the murdered villagers brings him to Castle Ventris. One case of mistaken identity later, he's officially hired as the castle's "punisher," the man responsible for the torture and execution of lawbreakers.
"You've got this guy who's sworn off this kind of violence being thrust into this situation where he has to tap into all those dark things he does very well," says Sutter of his follow-up to Sons of Anarchy.
According to Jones, that means Wilkin "goes through the full emotional gamut." He is consumed with rage but has intense faith—it was a divine vision that led him to give up his old life in the first place—which both explains his internal conflict and makes him especially susceptible to Annora's spiritual "guidance."
Annora, for her part, seems to believe she's working for a divine purpose. "She's a holy woman; she gets these intuitive messages, particularly about our hero," Sagal says. Annora is the one who tells Wilkin to pick up the sword again: "She knows why he has to live a different life, but he doesn't, and that draws him to her."
Wilkin's new foe, Corbett, has no such faith. Moyer is almost giddy about playing the utterly mercenary chamberlain, who has clawed and scratched his way out of the peasant class up to, if not the top of the heap, at least a pretty comfortable place close to the summit. In Moyer's mind, the young Corbett's life was full of horror and misery. "He's maneuvered himself into this position to get the best out of his life," the True Blood alum says, "and he's going to do everything he can to stay there."
While the cast comes from just about everywhere—Jones is an Aussie, Sagal an American, Moyer is English—the production is based entirely in Wales. "L.A. just doesn't have the castles we need," jokes executive producer Paris Barclay.
RELATED: (Video) The Cast Warns of 'Gore, Violence and Blood'
That hasn't been a problem in Cymru, the Welsh name for their country, which has about 100 still-standing remnants from Edward I's conquest in 1282. Sutter and Barclay had their own castle exterior and village built on a soundstage in Cardiff, but Moyer says nothing compares to shooting at a real 13th-century castle. "There's that extraordinary feeling of walking the same stone floors people have been walking for almost 800 years," he says. "That's kind of amazing."Shooting on location, however, occasionally created too much authenticity, particularly when it came to the unpredictable weather: "It's pretty charming, until you get to the middle of your scene and you're covered in mud in a cave somewhere trying to dry your hair," Sagal says with a laugh.
Originally, Sutter was simply looking to set his story in Northern England,but he began delving into the history of Wales once it was decided that the series would film there. "I knew there was a rich history there, but I didn't quite know how deep it went," he says. "There's this culture of rebellion, and the marcher barons are at odds with King Edward II, and a lot of the big battles were documented, but there was a lot that wasn't as well."
And although the Bastard Executioner team is comfortable sketching in its own details, Barclay says the historical King Edward II (Jack Greenlees) will be stopping by as the season goes on, and a seemingly trivial interaction in the pilot with rebel leader Gruffudd y Blaidd (pronounced Griffith a Blythe, which roughly translates to "Griffith the Wolf") will soon balloon into a larger story that ties into the final, doomed uprising of the native Welsh. Blaidd will be played by guest star—and actual Welshman—Matthew Rhys of fellow FX show The Americans.
If it all sounds a little dense, Sutter says there's no need to worry if you slept through your world-history class. "You don't have to know anything about Wales or the British or kings," he says. "Everyone understands the concept of rebellion and fighting back against the oppressor." Excelsior!
[jwplatform WhGflCLR]
The Bastard Executioner, premieres Tuesday, Sept. 15, 10/9c, FX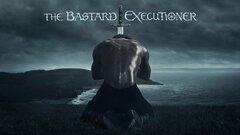 Powered by