Updated Stephen Colbert Ratings: 'The Late Show' Wins Its First Night, Improves vs. Last Year
The Colbert Nation showed up on Tuesday night.
Tuesday's premiere of The Late Show with Stephen Colbert averaged 6.6 million viewers, according to fast national ratings. That made it Tuesday's most-watched late night program in viewers and key demographics, according to Nielsen ratings released by CBS. The show bowed to a 1.4 rating in the adults 18-49 demographic.
Colbert was up +203% in viewers (from 2.2 million) and +250% in adults 18-49 (from 0.4) compared to ratings for Late Show with David Letterman on the same night last year.
David Letterman ended his run on May 20 with 13.7 million viewers, his show's biggest audience since February 1994. The show also averaged a 3.1 rating with adults 18-49 (his best rating since 2005).
But Colbert's launch didn't reach the heights of Jimmy Fallon's Tonight Show premiere, which averaged 11.3 million viewers on February 17, 2014. That premiere benefited from a Winter Olympics lead-in, but actually premiered a half hour later than usual, at 12:05/11:05c.
Letterman's CBS premiere, on Aug. 30, 1993, averaged 15.2 million viewers. In comparison, Conan O'Brien's 2009 launch as host of The Tonight Show averaged 9.2 million, while Jay Leno's return as host of Tonight Show on March 1, 2010, after O'Brien's short stint, was seen by an audience of 6.7 million.
Colbert's premiere was likely impacted by the fact that, for a lot of people, it's still summer–and they haven't yet settled in for fall TV viewing. Also, the launch took place on the first day back after the Labor Day holiday, when many schools go back in session (and exhausted families may have gone to bed early). Much of The Colbert Report's viewership took place online, so perhaps Colbert's audience, used to watching the host on their phones or laptops, are catching parts of the premiere today.
RELATED: Matt Roush: Why Colbert's Style Proves Singular on Late Show
According to early overnight ratings from 56 local markets measured by Nielsen, CBS' premiere of The Late Show with Stephen Colbert averaged a 4.9 rating and 13 share. That made it the top-rated late night show of the night (compared to a 2.4/6 for The Tonight Show Starring Jimmy Fallon).
That was up 123% from Late Show with David Letterman's premiere last year (2.2/4) and up 172% from the same night last year (1.8/5).
In the metered market ratings, Jimmy Fallon's Tonight Show premiere in February 2014 drew a 7.1 rating and 20 share. Conan O'Brien's 2009 Tonight Show premiere averaged a 7.1/17 in overnight metered-market results, while Leno returned on March 1, 2010 with a 5.4/14.)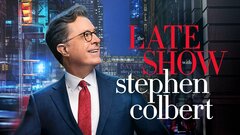 Powered by