From the Col-Blimp to the Col'Brew, How CBS Marketed Tonight's Premiere of 'The Late Show with Stephen Colbert'
College football fans Saturday were among the first to catch TV's first-ever "Col-Blimp."
CBS took advantage of its SEC kick-off game between Louisville and Auburn to promote the launch of The Late Show with Stephen Colbert via a 30-foot blimp. The helium dirigible, with Colbert's picture on the side, flew around the stadium and dropped decals featuring the show logo.
The "Col-Blimp" was just one part of an extensive marketing campaign crafted by the network to promote Tuesday night's Colbert launch.
RELATED: What to Expect When Colbert Takes Over the Late Show
"We wanted to be aggressive on every platform we could be," says CBS Marketing Group president George Schweitzer. "Knowing that Colbert has been off the air for nine months, coming over from cable, we wanted to reach fans and new viewers on every possible level… Marketing-wise, this is a once-in-a-generation kind of thing."
CBS has aired a heavy dose of Colbert spots throughout the network's primetime, late night and sports lineup. But Colbert promos have also appeared during news programming, particularly Face the Nation. That's unusual for an entertainment program, but given Colbert's popularity with newsmakers, network execs believed it made sense.
"We've never done CSI or other shows on Face the Nation, but it speaks to the news viewer, and to the politicians who watch it," Schweitzer says.
CBS is also running hourly spots on its 117 radio stations in 26 markets, plus bought advertising time on cable networks. CBS additionally made a "big investment" in running ads in movie theaters across the country.
Then there's Colbert himself, who has helped the cause by visiting many of the nation's top CBS stations. (That's something Colbert's predecessor, David Letterman, shied away from doing.)
"It's a different situation than when [Colbert] was on cable and didn't have local stations giving him a lead-in," Schweitzer says. "Now, the late local news is his lead-in. It was important for us to cement him with the local stations."
Colbert's producing and writing team, most of who moved over from Comedy Central's The Colbert Report, also kept the star in the public eye this year via regular viral videos and through social media. "They're relentless and very promotion friendly, and he understands the stakes here and how much CBS is investing in this and in him, so he wants it to succeed," Schweitzer says. "He's his own best promoter and marketer."
RELATED: How Colbert's Guest List Compares to Other Hosts
While most of the marketing effort still revolves around those traditional advertising and promotional spots, the unconventional gimmicks like the Col-Blimp can help generate headlines and buzz. Among other promotions, the traffic and navigation app Waze has added Colbert's voice as an option to give driving directions (though Sept. 22), while Colbert uploaded several videos to Snapchat in recent days leading up to the show's premiere.
Also, on Tuesday, CBS and Stumptown Coffee is handing out free limited-edition bottles of "Col'Brew" cold brewed coffee in New York.
"Anything we can put 'Col' in front of, we will," Schweitzer says.
Blimps, coffee and traffic apps can help build awareness–but it comes down to whether people are ready and willing to watch the Tuesday night premiere of The Late Show with Stephen Colbert, which will run for an expanded 7 minutes (from 11:35/10:35c to 12:44/11:44c) tonight.
CBS execs note that the timing of the premiere–a few weeks before the fall TV season officially begins–will help, as will launching the show after a holiday weekend. DVR usage is normally heavy in the 11/10c hour, but with few original broadcast and cable shows airing this past weekend, CBS hopes that viewers with fewer shows in their queues may be willing to try out Colbert instead.
"The timing is great," Schweitzer says.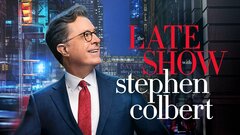 Powered by