Stephen Colbert on Dropping His Character, What to Expect on His 'Late Show' and 'Dry Trumping'
Who is the real Stephen Colbert?
As he prepares to launch The Late Show with Stephen Colbert on Sept. 8, the late-night host has already dropped his Comedy Central persona. But, as he told reporters Monday at the Television Critics Association press tour, there was always a fuzzy line between Stephen Colbert and "Stephen Colbert."
"That guy was a tool," Colbert said of his character. "But we did our best from the beginning to peek around the mask. I was able to piggyback on that character and be extremely intimate with the audience. [The real Colbert] has been there the whole time. I've been wearing that mask wider and wider as the years go on."
Colbert noted that he got away with saying a lot of outlandish things in character–but there were times that he actually meant what he said. "I even agreed with my character sometimes," he said.
But Colbert also said that he "wore the character as lightly as a hat depending on whom I was talking to."
That included pulling back on the character when he wanted to have an honest interaction with a guest. "I'd dial it up and down as need be," he said. "It was an active discipline as the years went on to keep the cap on."
Colbert said it's not hard to find video of the real host sneaking into The Colbert Report. Online there's a video supercut of every time he broke character on the old show, laughing.
"That guy who can't stop laughing, that's the real Stephen Colbert," he said. "I can't wait for him to be the only person you see."
He's also relieved, given how exhausting it was to conduct interviews in character. "Not having to run everything I have to say through the character's bible in my head is really lovely," he said.
The Colbert Report fans can also take heed that most of that show's staff have moved over to CBS to join Colbert on The Late Show. "You'll recognize our sense of humor because my entire staff has come with me," he said.
And here's another thing Colbert and "Colbert" had in common: A fear of bears. "I'm honestly afraid of bears," he said, noting that one night he watched the movie Man in the Wild, in which the character is mauled by a Grizzly. "In my lifetime, honest to go, if something's going bad in my life, I dream about bears."
Colbert also confirmed that Kendrick Lamar will be the musical guest on his first Late Show, along with previously announced guest George Clooney.
RELATED: Can Colbert and Supergirl Keep CBS Flying High?
Asked about how The Late Show with Stephen Colbert will be structured, Colbert said interviews would be an important part of the program.
"My favorite thing on [The Colbert Report] became doing the interviews," he said. "When you're interviewing people you don't know what's going to happen. All I want from a guest is someone who has something to say so I can play with them."
Colbert said big stars, politicians, authors, newsmakers, intellectuals, athletes and others will all be a part of the show.
As for the actual show launch, Colbert said it couldn't come soon enough. "This is the longest I've gone since I was 24 not performing in front of an audience," he said. "I am twitching… I've spent too much time in the simulator. I need to get into the jet."
He's particularly jazzed to tackle the Donald Trump presidential campaign. "I'm hoping [he stays] in the race until Sept. 9," Colbert said. "I want to do jokes on Donald Trump so badly and I have no venue. Right now I'm just dry Trumping."
Colbert said CBS has given him "free reign" in developing the new show. "CBS has asked nothing of me other than fill an hour every night, Monday through Friday."
Is he anxious? "If you're not a little nervous, you're probably not trying hard enough. I want to get in front of the audience and hear the laughter."
Also from the Colbert press conference:
— Ten days before David Letterman ended his Late Show run, Colbert spent time with him and peppered him with questions about his advice.
"He was really gracious," Colbert said. "We talked for an hour." He asked Letterman what he wished he had done differently, and Letterman lamented not placing his desk on the other side of the stage. After that, Colbert called his stage designer and flipped the layout, putting the desk on the opposite side as Letterman had wanted.
At the end of their meeting, Letterman showed Colbert how to operate an old brass-handled manual freight elevator he used to reach the stage. "He showed me how to open the door so elevator would be right there," Colbert said. "It felt like a guy teaching you how to use the tool before he leaves."
Would Colbert invite Letterman on the new Late Show? "That would be a lot of fun, it would be a real honor."
— Colbert hit it off with Jon Batiste when the musician visited The Colbert Report, which inspired him to hire Batiste as his bandleader. "His music is rooted in jazz, and he can play almost anything with equal joy," Colbert said. "I invited him to the last show, and we've had a couple long conversations about connecting with audiences. I can't wait to play off his energy. I'm an improviser."
— The Late Show staff moved into the offices above the Ed Sullivan Theatre this week, while the show's new set is in the process of being built. The Ed Sullivan was completely gutted and brought back to its original 1927 state. "It will be a Late Show set within the context of a Broadway theater," he said. "You couldn't tell it was a theater. Now you can."
— Why George Clooney as a first guest? "I like George Clooney, he's a brilliant actor, a great director, he cares about the world," Colbert said. "How many celebrities have their own spy satellite?"
— Colbert also hopes to put an end to the so-called "late night wars."
"The idea of war between hosts makes no sense to me," he said. "Fighting against each other doesn't sound funny."
— There's at least another 20 minutes of Colbert's Michigan public-access cable interview with Eminem that ended up on the cutting room floor. "Hopefully someday you'll see the directors' cut," he said. Colbert and Eminem agreed to keep the interview a secret and not send it out to regular websites. They even had the staff of the public access organization sign non-disclosure agreements.
— One more Trump mention: "Please stay healthy until I get on the air," Colbert said. "Every night I light a candle and pray that he stays in the race. I also hope no one puts that candle next to his hair."
Could he become president? "He could," Colbert said with a wrinkled nose. "And that's not an opinion of Trump. That's an opinion of our nation. There have been some great presidents and some bad presidents. Having a giant pair of swinging balls isn't the worst thing in the world."
More TCA Coverage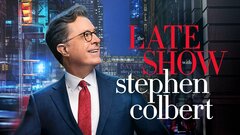 Powered by