'Dark Matter' Will Return for a Second Season
In addition to a second season of Killjoys, Syfy has announced their renewal of Dark Matter for Season 2. The show will also return in 2016 for a 13-episode arc that centers on survivors of a spaceship who wake up with no memories of how they got on or who they are.
Marc Bendavid (One), Melissa O'Neil (Two), Anthony Lemke (Three), Alex Mallari Jr. (Four), Jodelle Ferland (Five) and Roger Cross (Six) will return as the six survivors who must construct a new life while reconstructing memories of their past ones.
RELATED: Ruby Rose Stops by Dark Matter
Executive producers Joseph Mallozzi and Paul Mullie (who also wrote the Stargate franchise) based Dark Matter on a graphic novel they published together through Dark Horse Comics. Since the show's debut, it's averaged 1.8 million viewers on Syfy.
Other Syfy shows based on novels that will be premiering soon include Childhood's End, The Expanse and The Magicians (by Les Grossman).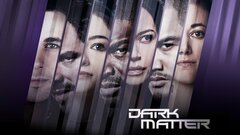 Powered by