Ruby Rose Goes Robot in Syfy's 'Dark Matter' (VIDEO)
Aussie actress Ruby Rose is back on TV —and this time she's an android with the definitely unsexy moniker "Wendy" on Syfy's summer  adventure series Dark Matter ( Fridays at 10/9c.) For the two of you out there who may not recognize the name, Rose was the breakout star on this past season's Orange Is the New Black as lusty and larcenous con Stella, who got a not-so-well deserved comeuppance served to her by the newly wicked Piper (Taylor Schilling) and will be remembered for her extensive array of—real—tattoos, on display during scenes in Litchfield Penitentiary's bathroom.
On Dark Matter, Wendy is an "entertainment" bot who arrives on the show's derelict spaceship , willing and able to keep the crew happy in all meanings of the word. We just hope that Wendy is a little happier at the end of her one-episode visit than Stella found herself at season's end on Orange. (So far, Rose says she hasn't yet been called back to the Netflix series set.)
Here, two exclusive clips from Dark Matter. First up, the sexy droid is activated by the crew—One (Marc Bendavid), Five (Jodelle Ferland) and Six (Roger Cross), ready to cook. In the second, she and One do some private cooking of their own.
[jwplatform 8asWUART]
[jwplatform GJqDS38H]

Dark Matter, Fridays, 10/9c, Syfy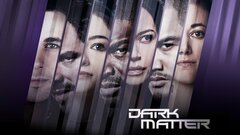 Powered by