What's Worth Watching: 'You're the Worst' on FXX for Wednesday, September 9
You're the Worst, "The Sweater People" (Wednesday, Sept. 9, 10:30/9:30c, FXX)
If the cynical and merrily debauched couple at the heart (if there is one) of You're the Worst had their way, they'd probably be starring on something called XXX—a dated reference, I suppose, for those who remember when porn theaters were still a thing. But Jimmy (Chris Geere) and Gretchen (Aya Cash) will have to settle for being on FXX, which still sounds suitably fringe for characters who share an abhorrence for the mainstream.
This fear is especially acute as the second season of the raucously funny and proudly raunchy comedy begins, with Gretchen now living with Jimmy (a result of having torched her own pad under unsavory circumstances). Will domesticity tame them? As Gretchen's ditzy friend Lindsay (Kether Donohue) warns, having recently seen her cushy marriage to a prosperous nerd dissolve: "There comes a day when every relationship turns gross, old and boring."
For Jimmy and Gretchen, being "ordinary" is unthinkable, so they overcompensate by turning each night into a crazed orgy of sex, drugs, alcohol, sex and frequent blackouts. They're exhausted, dehydrated, weary and wary of the next binge—but given their contempt for "disgusting normals," they have no choice but to do what it takes to keep from turning into one of the "sweater people." Even if it kills them. (Next week, they invade the mall culture so Gretchen can buy some grown-up stuff to put in Jimmy's place. It doesn't go well.)
Should this sort of caustic comedy bring you bliss, let me also recommend Hulu's hilarious Difficult People, starring Julie Klausner and Billy Eichner as poisonously witty show-biz wannabes, with new episodes available for streaming every Wednesday. This week's winner, the next to last for the season, has a very strong guest cast, including Seth Meyers as an unusually friendly dog-park regular, stage veterans Julie Halston and Mary Testa as clients of Julie's psychoanalyst mom (the great Andrea Martin) who participate in her "drama therapy" regimen, and a surprise cameo by [spoiler redacted] who's revealed as Julie's mean commenter on her recap blogs (calling Julie "fat Reba" for starters).
With You're the Worst set in Los Angeles and Difficult People in New York, it's unlikely these mirthful misanthropes will ever cross paths. But one can dream.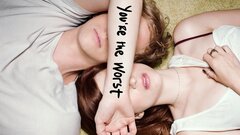 Powered by