'Big Brother': Zingbot's Slippery Slope to Safety (RECAP)
In the wake of last week's double eviction, things in the Big Brother house went from crazy to crazier. Zingbot, former players and surprise pregnancy announcements were among the highlights of this week's episodes.
Trees of temptation and bonus episodes were also included in this week's game. If those topics aren't enough to peak your interest check out the in-depth recap below, but beware of spoilers.
The Cast
Alex
Since the double eviction, everyone's game has been more on edge and Alex is no exception. While Mark was the clear target after Cody and Elena's exits, Alex was considering Kevin as her next target due to his shady conversations with opposing players. This plan was ultimately dispelled when Jason and Matt were nominated in order to back door Mark. Unlike her teammate Jason, Alex continues to show caution as she moves further in this game, and has the potential to make it even further if her main opposition of Matt and Raven are evicted in the coming weeks.
Christmas
Just when it mattered the most, Christmas won HOH and controlled the house this week. Despite her position of power, Christmas continued to listen to the whisperings of Paul, and set her sights on Mark as the target. While she followed through on the goal, Christmas was also content to target Jason and Alex who she believes are her greatest threats. Even though she is not able to compete in half of the competitions, Christmas and her alliance member Josh have the potential to make it further than some others.
See Also
Executive Producer Allison Grodner answers those and more 'Big Brother' questions!
Jason
He's going to be a dad again! This rodeo clown started the week off by getting his HOH basket from his win during double eviction night, and included was a letter from his wife informing him of her pregnancy, cushioning the blow of being nominated for eviction this week. Jason was rather oblivious to the fact that he was a potential target this week, but even so, his veto win secured his safety. As the numbers dwindle in the house, Jason's safety will diminish like the rest of his houseguests, but his future seems brighter than others.
Josh
Josh's shield of safety continued with Christmas' win since they are close allies – a fact that wasn't fully revealed until this week. This meatball lover also traded in his saucepans for an owl in a moment of solitary insanity, revealing a more humorous side especially when Zingbot showed up in the house. Despite working with Paul to get Mark out, both he and Christmas weren't sold on the plan and considered Jason as a realistic target. Ultimately Josh played a low-key game this week and will continue to stick around if he follows that tactic.
Kevin
This week was rough for Kevin, even if he doesn't know it from first hand exchanges. Since Alex's suspicions sprouted, Kevin has been deemed expendable within the next couple of weeks. Even though he plays a social game, Kevin will have to start making some bigger moves if he wants to stick around longer.
Mark
Unfortunately Mark saw where this week would take him the minute his partner Elena exited the game. Even though his elimination was inevitable, Mark continued to make an effort to preserve his life in the game, even pursuing the new tree of temptation twist in a last ditch effort. At least he can say he didn't go out without a fight, because his fate seemed up in the air until the last minute.
Matt
Once again Matt was on the block and yet he was not eliminated, although it could have gone that way. Even though he and Raven are playing a low-key game, their targets only continue to grow as they are the only intact showmance. If Matt doesn't begin to make bigger moves both he and his partner will only put themselves in bigger jeopardy.
See Also
Double eviction night finally hit the 'Big Brother' house.
Raven
Just like her partner, Raven continues to play a low-key game when she should be playing a bolder one. Despite Matt being considered a target by others, Raven may be taken further due to her poor competing abilities. Only time will tell now if the plan of consensus to eliminate her and Matt will be followed through.
Paul
Another week is just that for Paul who seems to be going nowhere soon, as he continues to run the show. Paul's influence over his other players is nearly unparalleled as they comply with every plan he presents to them. Also, as far as discussions seen this week, Paul doesn't seem to be on anyone's radars, almost guaranteeing him a spot in the final vote.
Most Dramatic Moment of the Week
Sure, there's always some drama in the Big Brother house, but this week was relatively quiet, leaving us with little to stress over.
Cutest and Funniest Moment of the Week
Gifted with a bonus episode this week, viewers and the houseguests were treated to a visit by Big Brother 16 winner, Derrick Levasseur. During this visit, Derrick took the houseguests down memory lane, highlighting quirks and funny moments in Friday's bonus episode. Some of the quirks included Matt's incessant cereal eating, and Jason and Alex's "nomance."
Another cute moment was Jason's baby announcement where the joy through the screen was palpable. This week's Zingbot veto was also a laugh as contestants slipped across greased up lanes for the challenge.
'Showmances'
As the houseguests diminish in numbers so do the showmancers. Matt and Raven are still around, but they remain the biggest targets.
Rating
Due to some lighthearted moments and minimal drama this week receives 4 vetos out of 5.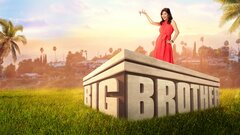 Powered by